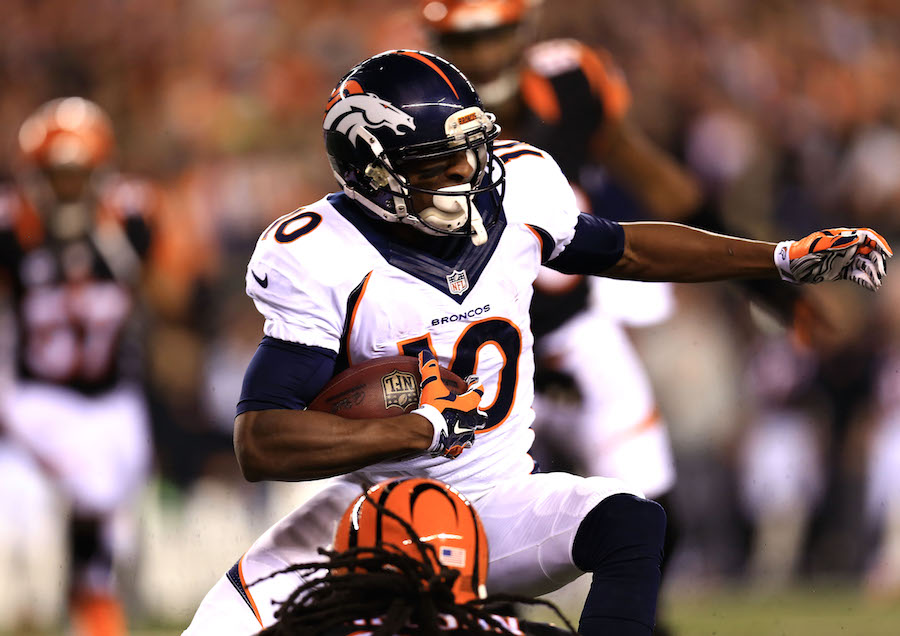 Emmanuel Sanders posted a career-best 14.9 yards per reception in 2015, despite a slightly down year in total yards and touchdowns. Then again, all of Denver's offensive numbers were down in 2015. Where Sanders really earned his keep last year was in the playoffs. He didn't find the end zone, but he was Denver's top option throughout their Super Bowl run. As such, he wants to be paid like a No. 1 receiver.
The 2016 season will be the last of Sanders' three-year contract; he's scheduled to make $5.6 million. Going forward, he plans on remaining a Denver Bronco, but much like Von Miller and his fellow wideout Demaryius Thomas, he's looking to be shown some big bucks.
"I don't want to go anywhere. It's all about just getting the right number. I pray that they do come to the right number." Sanders said earlier this month via 9News. "Obviously, my heart is in Denver, this city has been so good to me beyond what I can explain. I want to retire a Bronco."
Reports surfaced a few weeks ago that the "right number" might be $12 million a year, which would make him a top-10 wideout in the NFL in terms of salary.
Danny Williams and Marcello Romano of Morning Mayhem on Mile High Sports AM 1340 | FM 104.7 are trying to wrap their heads around what a realistic contract would look like.
"He is in a situation right now if I were him, I would take $8 or $9 million [per year] over three years, all guaranteed to get this deal done," Williams suggests.
Sanders should earn more than his current contract because he is in the prime of his career, has produced back-to-back 1,000-yard receiving seasons and will be a huge catalyst to the Broncos offense this season with a new quarterback set to take the helm.
He should remember though that if he is looking for No. 1 receiver money he probably won't find it in Denver, who is already cash strapped and still has not signed Miller to the long-term deal he desires.
"I have a personal bias," Romano said, "because [Sanders] is one of my favorite players … But he's not a No. 1. What's [the going rate] for a No. 1.5?"
Williams says it's $10 million a year. Which he thinks might be too much to spend on a receiver who's 29 years old.
He suggests the Broncos may just let this season play out, see how Sanders does, and potentially draft a highly rated receiver in next year's draft. That's far from the outcome Sanders is seeking.
Listen to the full discussion on Sander's contract talks, plus some karaoke and a Whiny Monday recap, the podcast below…
Catch the Morning Mayhem every weekday from 7a-9a on Mile High Sports AM 1340 | FM 104.7 or stream live any time for the best local coverage of Colorado sports from Denver's biggest sports talk lineup.