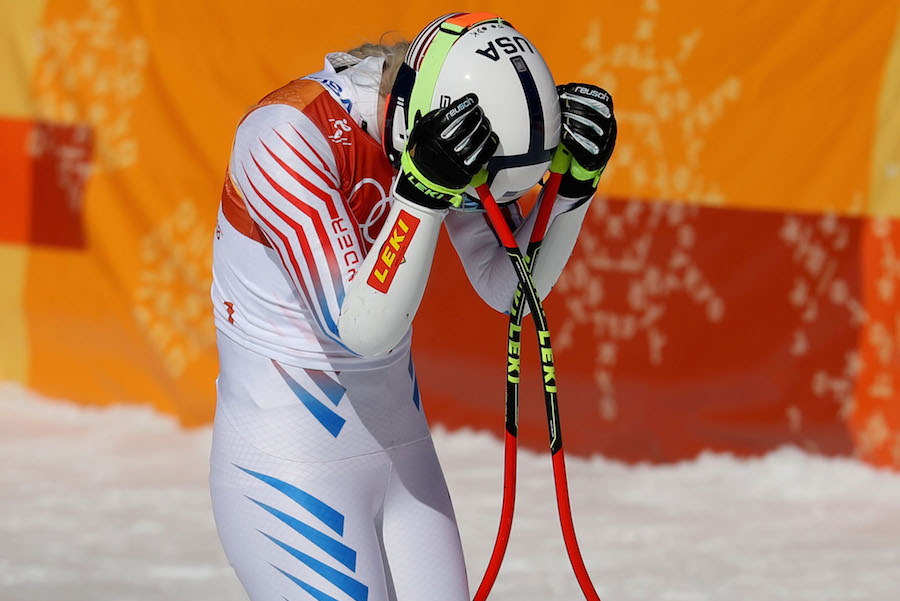 America, we have unrealistic expectations when it comes to the Olympic Games.
Even calling ourselves "America" during this global contest highlights just how off-kilter our worldview really is. The "United States of America" is just one of 23 North American countries (not to mention the 12 in South America), yet we've effectively claimed "America" for ourselves.
Author's Note: Bonus points to anyone who can, without immediate use of the Internet, name the Italian explorer for whom the two continents derive their name.
Name politics aside, the Olympic Games and the way they are presented on network television have created a bubble in the U.S. sports psyche that is hurting Team USA — especially its winter sports athletes.
Entering the final week of the 2018 Winter Games, Team USA was tied with Canada for fourth place on the medal table with five golds apiece. Our neighbors to the north claimed six more total medals, bettering the U.S. in both the silver and bronze categories, to break the tie.
At the start of competition on Monday, Feb. 19 in PyeongChang (officially mid-evening on Sunday in the United States), Norway held a commanding lead in the overall medal count, 26 to 18, over second-place Germany. Nine of Norway's medals were gold, tied with the Germans.
Just how dominant has Norway been in these games? They have more cross-country skiing medals (11) than the U.S. has total medals (10). They have as many cross-country gold medals (five) as the U.S. has total gold medals in these Games. The Norwegians completed a clean sweep of the men's 15km + 15km skiathlon, taking home gold, silver and bronze. To no one's surprise, they won gold in the men's 4x10km relay.
To put it in context for folks not familiar with the sport of skiathlon (a combination of the classical and skate techniques), Norway is to cross-country skiing what the United States to swimming.
And therein begins the disservice we Americans do our Olympians — our Winter Olympians especially.
Because Team USA is so dominant in sports like swimming, winning 33 of 104 possible swimming medals in the 2016 Summer Games, we've grown to expect a similar level of dominance across all sports.
Seeing the daily medal count at the Summer Games doesn't help, either. The U.S. ran (and swam) away with the Rio Games two years ago, taking home 121 total medals (46 gold), nearly double second-place Great Britain's 64 (27). Team USA has won the medal count in five of the last six Summer Games, losing only to China in the Beijing Games in 2008 (the U.S. actually earned more total medals, but China "won" with 48 golds to 36).
The Winter Games have not been quite so prosperous for Team USA.
Although a quadrennial top-five finisher (including the most total medals won in 2010, but only the third-most golds), the United States has not "won" a Winter Olympics since 1932. Only 14 events were contested at those games. Consider that there are 10 snowboarding events being contested in PyeongChang.
In fact, without snowboarding, the U.S. would have just one gold medal so far at the 2018 Games — that belonging to U.S. alpine skier Mikaela Shiffrin in the giant slalom.
Shiffrin, a Colorado native, is everything that is both right and wrong with our perception of the Olympics.
A tireless athlete and relentless competitor, Shiffrin at the 2014 Games became the youngest ever slalom gold medalist. Since that time she has claimed multiple World Cup slalom titles, a World Cup overall title and has nearly lapped the women's World Cup overall field during the 2017-18 season. She won the 2017 Skieur d'Or, awarded to skiing's best alpine skier male or female.
Shiffrin is one of a handful of athletes NBC selected prior to the games to build their coverage around. She joins legends like snowboarder Shaun White and fellow alpine skier Lindsey Vonn, along with rising stars Chloe Kim (snowboarding) and Nathan Chen (figure skating).
These names and faces have dominated our TVs, computers, phones and tablets — for better or for worse — throughout this year's coverage.
White and Kim delivered clutch performances to earn gold medals early in the games.
Vonn struggled in the super g, but looked strong in her first training run for the downhill. Shiffrin ran just 23rd, while Glenwood Springs native Alice McKennis was third. Guess which two of those three were part of the pre-telecast promotion?
Shiffrin got a second career gold out of the way with her win in the giant slalom, but nerves may have got the best of her in her top discipline, the slalom, where she finished just off the podium. She was, by some accounts, so nervous before her first slalom run that she vomited. (Other reports said it might be a virus.) Whether or not she was sick, her nerves were evident during the interviews she did with NBC between each of her runs for both the slalom and the giant slalom. As the on-course reporter pecked away, Shiffrin looked visibly uncomfortable talking about not being in her usual spots atop the leaderboard.
Yes, these athletes not only have to compete at a world-class level, many of them have to answer questions from the media in the middle of competition. (Imagine a starting pitcher being asked between innings during Game 7 of the World Series why he had just surrendered a go-ahead home run.)
Shiffrin was asked numerous times before the games if she could become "skiing's Michael Phelps." She may be the most dominant overall women's skier at the moment, but it's unfair and unrealistic pressure to suggest that Shiffrin could ever match the 23 gold medals Phelps won over his swimming career.
Shiffrin told Mile High Sports' John Henderson in 2017 that she dreamed of being "the best skier in the world." What most Americans will forget, or more likely never know, is that she has already accomplished that goal with her World Cup overall and Skieur d'Or award — one she quite possibly could win again this year, regardless of how she finishes her 2018 Olympic Games.
Shiffrin has been hands down the best female skier on the planet this year, but she hasn't been at her absolute best at these Games. Most casual observers — and probably NBC — will talk about the "letdown" of her not winning Olympic gold in the slalom. That's only a small sliver in her sports story, one highlighted by the pressure bubble the Olympic Games create.
Clearly some of that same pressure got to 18-year-old Nathan Chen, who struggled greatly (by his standards) in the short program in both the team figure skating and the men's individual competitions.
Fans who tuned in to NBC on that very first night of the team skating competition, or on the first night of the men's individual competition, saw the young man the network had built up as the "quad king" stumble in his short programs. Before the Opening Ceremonies had even begun, Chen had let down his country. The other members of Team USA were strong enough to deliver a bronze in the team competition, but the story quickly became how Chen would respond as he chased Olympic gold.
Thrown in almost as a side note to the Chen hype was the fact that his competition this year included all three podium finishers from the 2014 games including world record holder, reigning world champion and reigning Olympic gold medalist Yuzuru Hanyu.
Hanyu posted a jaw-dropping 111.68 score in the individual short program and the second-best free skate at 206.17, cruising to his second gold medal by a whopping 10.95-point margin of victory over his countryman, Shoma Uno.
Chen rebounded to make Olympic history by becoming the first man to land six "quad" jumps in his individual free program with a 215.08 score, better than even Hanyu's, but his heroic effort was not enough to medal after his poor short program.
the truth of the matter is that Chen was never the "king" that NBC and the U.S. hype machine was billing him to be. Hanyu, to even the untrained eye, was hands down the best skater in the competition — and it wasn't even close.
Yet, here in America, Chen's efforts in PyeongChang will be billed as a failure now and until the Winter Games reconvene in Beijing in four years.
Meanwhile, there are gripping, heart-wrenching, compelling and inspiring stories going on at these Games that the primetime TV audience might be missing.
Denver's Lauren Gibbs, a converted volleyball and track athlete, is part of the USA-1 women's bobsled team that very well could take home a gold medal. Gibbs had never been inside a bobsled four years ago.
Breckenridge's Katie Uhlaender, who just completed competition in her fourth Winter Games, has endured a dozen surgeries during her Olympic voyage. Just moments before her first run of the games she caught a glimpse of her mother in the stands. The two have been estranged for years.
And those are just two of the stories from athletes who call Colorado home. There are countless others worth telling, regardless of where they might finish in the standings. (Like that of CU alum Joanne Reid, who finished second-to-last in her first biathlon event, and her rifle.)
Obviously, NBC can't provide primetime coverage of all 244 athletes representing the United States. But by focusing almost exclusively on those athletes they expect to win gold medals, they are fostering a harmful environment both for those "gold standard" athletes and for those who struggle just to make ends meet during their Olympic pursuits.
The high-profile athletes face undue pressure, while the other athletes don't receive enough credit for their work or the spotlight needed to help fundraise and support their efforts. Red Bull built Shaun White a private half-pipe on the back of Silverton Mountain, meanwhile Katie Uhlaender has put herself in debt pursuing her Olympic dream.
The fact that the U.S. does not dominate the medal count in the Winter Games only makes matters worse for Winter Olympic athletes on the fringe. We shrug off cross-country skiing because the U.S. has not won a medal in the event since 1976 (our only one in the sport).
Team USA is more than Mikaela Shiffrin and Shaun White. It's also Stephen Garbett, a Parker-based skeleton racer who devoted every bit of his strength, time and money the last four years to his sport, but just missed qualifying.
So, as the final week of Olympic competition for 2018 begins, root for your fellow Americans regardless of whether or not they are medal contenders or fulfilling our absurdly high expectations. And be thankful you're not cheering for Vespuccians.