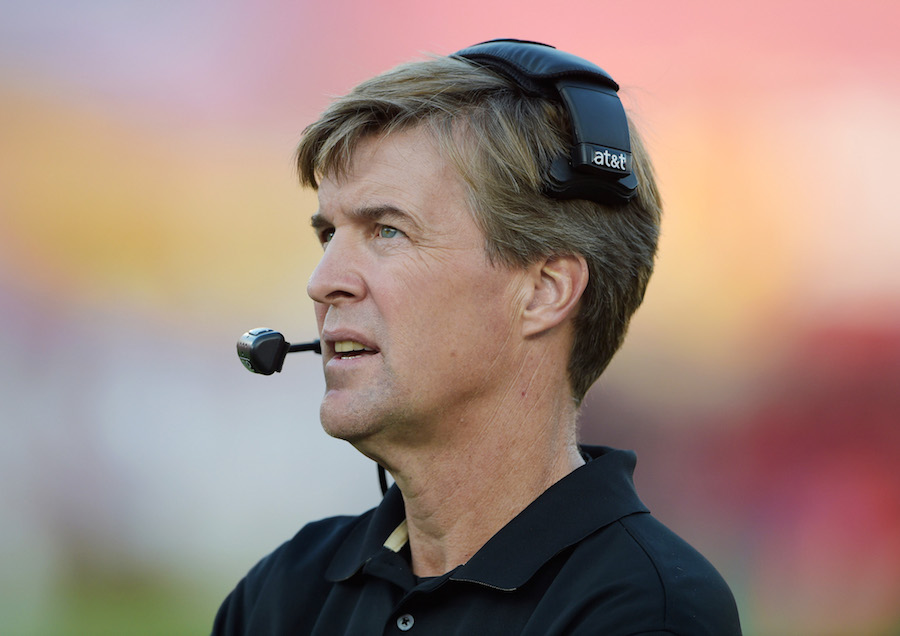 Just two games into his third year as head coach of the Colorado Buffaloes, Mike MacIntyre is already hearing the calls from the catacombs that his job could be in jeopardy if he can't deliver a win against the Colorado State Rams in Saturday's Rocky Mountain Showdown.
MacIntyre guided the Buffs to just two wins in year two, Hawaii and UMass. Already this year he's 1-1 against those same opponents. But Colorado State, who finished 10-3 last season en route to a Las Vegas Bowl appearance, has a new head coach and has lost their NCAA-leading passer, Garrett Grayson. To boot, it appears that CSU may be without the services of consensus All-American Rashard Higgins, who did not play in a Week 2 home overtime loss to Minnesota.
Longtime Denver sports radio hosts Irv Brown and Joe Williams have been keeping a close eye on this matchup, as both teams find themselves at a crossroads.
"Neither one of these teams is as good as they want to be," Williams says. He also believes that Colorado State would struggle in the Pac-12, just as Colorado has so far.
Quarterback uncertainty and missing Higgins could give CU the edge in Saturday's matchup, but Williams still believes that MacIntyre's job is safe regardless of the outcome.
Colorado is on its fourth coach in eleven years in MacIntyre. At some point, the revolving door has to stop and the coach in Boulder needs an extended time to build the program.
Williams still believes Saturday is a big game for MacIntyre because it's winnable, but he's certain the coach will have another full year for the program to mature under consistent leadership.
Check out the full conversation, plus Broncos talk, in the podcast below.
Listen to Irv and Joe every weekday from 1p-2p on Mile High Sports AM 1340 or stream live any time for the best local coverage of what's new and what's next in Colorado sports.