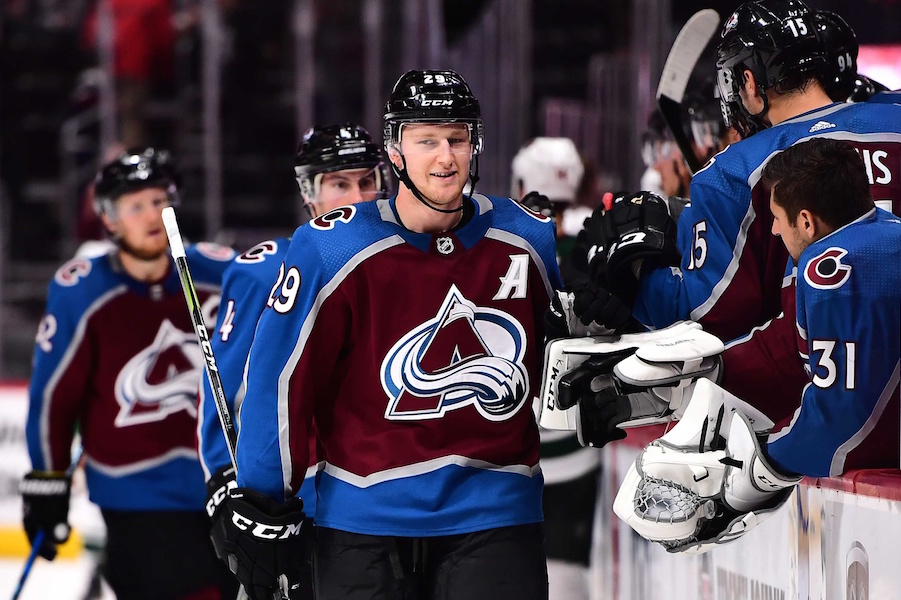 What's better than Avalanche superstar Nathan MacKinnon winning MVP?
How about Mack and the boys bringing the Stanley Cup back to Denver?
The 303.
The 720 if you're new here.
LETTTTT'S GOOOOOOOOOOOOOOOOOOOOOOOOOOO.
I'm like a giddy 11-year old all over again — after the team won the title in 2001.
Want to know a little secret? Hockey was my first love.
Growing up in this city, I was spoiled by the Avs. They went to the Western Conference Finals seemingly every year. I used to play little league baseball and asked my folks to DVR Colorado's playoff games against Detroit or Dallas and watch them when I'd get home.
Nuggets, Broncos and Rockies I love you.
But I'm an Avalanche fan right now.
And all of this is coming back quickly. With the team winning seven games in a row, their longest streak in more than a decade, these guys are good. Freaking good. If I could drop an "f-bomb" right now, I would, but I don't want to make extra work for my editors.
Is MacKinnon the next Joe Sakic? Peter Forsberg? Those guys were monsters on the ice — clearly the best players in the NHL. Mack is becoming that before our eyes. At the game on Monday afternoon against the Ducks (a 3-1 win), I found myself watching only MacKinnon. He's that good right now. That special.
And this kid gets it.
Life is about seizing opportunities. If you're not doing that, you're just burning time.
Mack wants to win it all.
This year.
"Hopefully we can evolve into a '[Stanley] Cup or bust' team attitude. Right now, we're fighting for the playoffs, but if we can get in we're going to be a tough team to beat," MacKinnon told voice of the Avalanche Marc Moser after the game against Anaheim.
I was standing right there. Right next to Moser and Mack.
I wanted to scream — but I couldn't do that — I'm a member of the media. Not a fan boy. At least not when I'm in that locker room or sitting in that press box.
But you can't hide from your roots. I work with a guy by the name of Vic Lombardi, who has long said he's just a fan who reads a teleprompter. That's good stuff. I don't need to lie to you — I'm not objective — I want the Avalanche to win the Stanley Cup just as bad as you do.
Is that going to happen this year? Probably not.
Still, their best player said it after another huge win, so I'm going to write about it and talk about it. If Mack has that attitude, why can't all of us?
A lot of sports is about getting hot at the right time.
Look at how the Broncos won Super Bowl 50.
Von Miller played out of his mind, Peyton Manning kept the train on the tracks and Gary Kubiak pushed all the right buttons.
Nathan MacKinnon can be Von Miller. Gabe Landeskog can be Peyton Manning. And Jared Bednar should win NHL Coach of the Year. Oh, and by the way, Joe Sakic should win Executive of the Year.
This column isn't to put unwanted or unneeded pressure on the team. Far from it. Frankly, I hope not a single guy on the team reads it. They don't need this outside noise.
But my job is to pump this team — and frankly — they deserve it. This isn't spin. This is me telling you that you should be excited about the biggest story in the NHL right now.
It was the Vegas Golden Knights. Now it's the Colorado Avalanche.
But the road ahead is going to be tough.
The team has home games against the Sharks (Thursday) and Rangers (Saturday) in which they need to find a way to get three or four points.
After that, it's 13 of the next 16 on the road.
The good news? I'm not all that nervous. With their leadership right now, they'll be fine — I think.
If Nathan MacKinnon is going to talk about the Stanley Cup, then we can too.
MVP for Mack would be awesome, a parade would be even better.