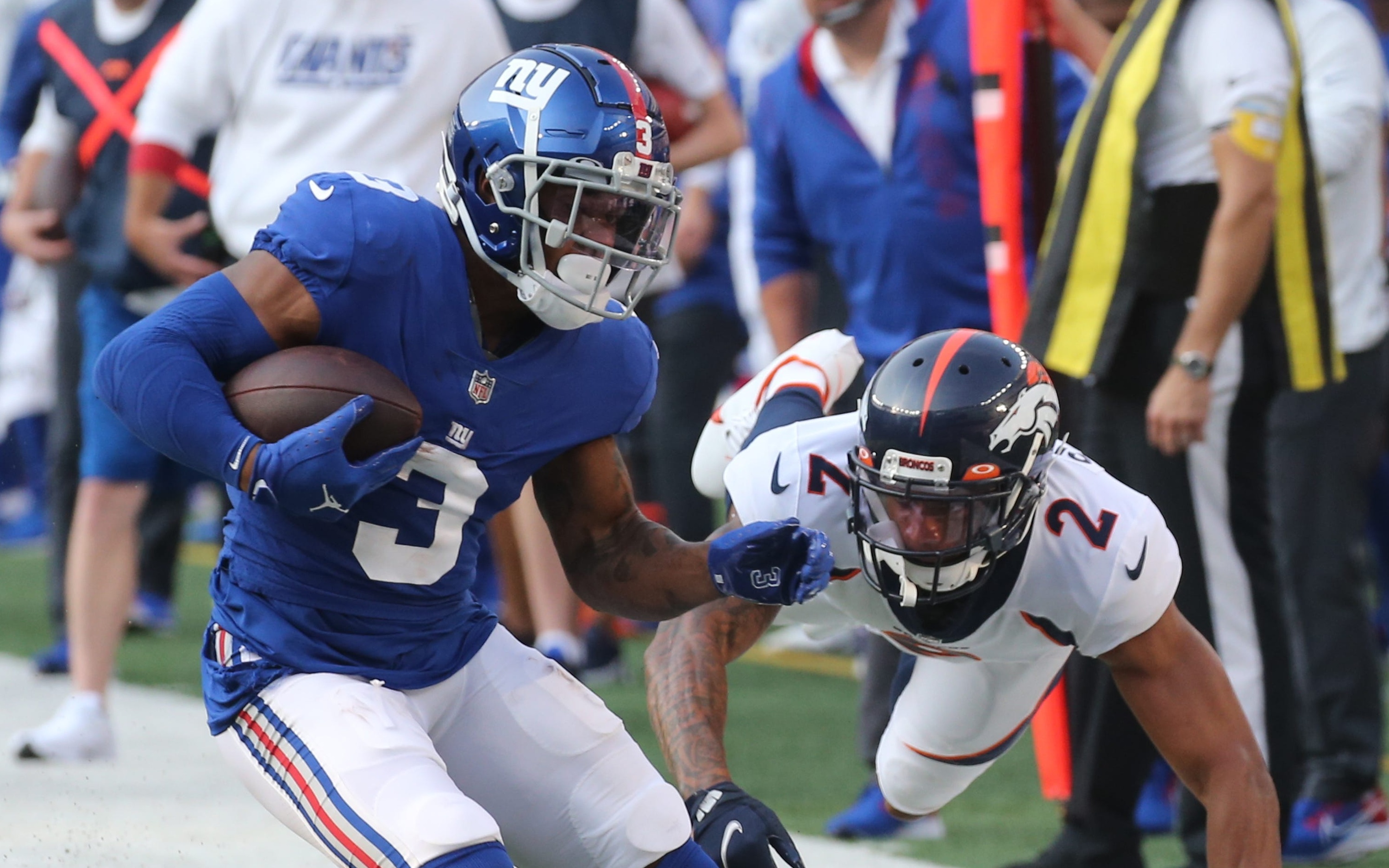 Just when the Broncos seemingly got out of Week 1 relatively unscathed, another injury was revealed on Tuesday.
Denver destroyed the New York Giants in New Jersey on Sunday, winning 27-7 thanks to efficient offense and physical defense, but it wasn't all roses for the Broncos.
Early in the third quarter, Jerry Jeudy's ankle was rolled on as he was tackled, and he was carted off the field with his head in his hands. That one, we knew about. Luckily it was reported still during the contest that the young wide receiver's x-rays came back negative. That means there were no broken bones, and the timetable for return is 6-8 weeks on the hopeful side.
As for the injury we didn't know about, newly acquired cornerback Ronald Darby injured his hamstring, sending him to the IR for three weeks or more. It was a surprise because not only did Darby play well, he played all 61 snaps on defense for Denver.
Of course, he does have a long injury history. Now in his seventh year, Darby has played a full season only once, in 2020. So this was somewhat to be expected, but wow, it hurts to see him sidelined only one week into the season. Especially as Darby impressed all preseason and played decently on Sunday.
But to the benefit of the Broncos, they have one of the deepest defensive backfields in the NFL. Maybe the deepest.
Kyle Fuller — another offseason signing — will still start outside, with fellow former Bear Bryce Callahan in the slot, and rookie Patrick Surtain II opposite of Fuller.
Surtain was built for playing cornerback in the NFL, as a heritage player. That's right, his dad played for the Dolphins and Chiefs for 10 years combined, earning his way to three Pro Bowls and one All-Pro nod.
The Broncos' Surtain aka "PS2" was coached by his dad coming up through youth football, and then he was an absolute standout at Alabama, which is regularly stocked with the most talented defenders in America.
Surtain was the SEC Defensive Player of the Year and a Consensus All-American in 2020, his junior year in college. That's part of the reason Denver took him at No. 9 overall in this year's NFL Draft.
And he warmed up with the starters before the Giants game, with head coach Vic Fangio explaining postgame the plan was to get the young man a drive and a half with the starters. He did just that, with 16 snaps and a few worse than others.
Like the touchdown PS2 allowed to Sterling Shepard by being out of position and then trying to tackle too high.
Hey, welcome to the NFL rook.
We've also seen flashes of brilliance from the young man, like the Pick-6 he had against Minnesota in Week 1 of the preseason.
PS2 with the PICK-6 🎮

Not a bad debut, @PatSurtainll!

📺: @nflnetwork pic.twitter.com/fg5QBr7jKD

— Denver Broncos (@Broncos) August 14, 2021
As you can see in the video, Surtain is long and lanky, at 6'2″ he's a tall cornerback and was given a "relative athletic score" of 9.96 out of 10 for players at his position. He possesses 4.42 speed, an insane vertical and has been coached up by a former All-Pro his entire life.
All that said, cornerback is still one of the most difficult positions to play in today's NFL.
They have to shadow the receiver, with the wideout knowing where his route is supposed to take him. Meanwhile, the corner has to guess where the receiver is going to go, and then they can't even touch the receiver while trying to defend him.
We saw a giant learning opportunity for Surtain on Sunday, and it's likely we'll see more as this season moves forward.
On the bright side, experience is crucial in building confidence and in learning the ins and outs of playing at the NFL level. So, have some patience with the rookie, he's bound to make some mistakes, but could also make some highlight reel worthy plays as well.
The 1-0 Broncos face the Jaguars (0-1) in Jacksonville this Sunday with an 11 a.m. MT kickoff on CBS.