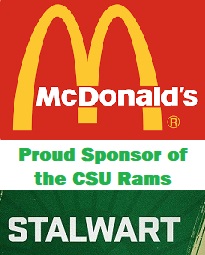 The Colorado State Rams (3-4) had a chance to pull off the upset against the remarkable UNLV Rebels (6-1), but fell short.
After jumping out to a 10-3 lead midway in the second quarter, the Rams stayed on top of the Rebels until a Donavyn Lester 11-yard touchdown run late in the third quarter. Down 19-13 in the fourth, Brayden Fowler-Nicolosi led the go-ahead touchdown drive, connecting with Justus Ross-Simmons for a 20-yard score.
But this game was back-and-forth, and UNLV regained the 23-20 lead with a 46-yard field goal with only 1:27 to go. Fowler-Nicolosi and the offense quickly moved the ball into field goal range, where Jordan Noyes connected on a 55-yarder with only 43 seconds on the clock.
However, the Rams squib kicked the ball and UNLV started at their own 34. They moved into field goal range in a hurry and Jose Pizano drilled the 28-yarder to win 25-23.
The squib kick was an interesting call by head coach Jay Norvell, but UNLV enjoyed solid field position after kickoffs all game. The Rams defense needed to step up late and couldn't, which led to the loss.
Stock Up: Jordan Noyes in a zone for Colorado State
Jordan Noyes
Noyes is currently on fire for the Rams. And that's a good thing, because they're likely to continue to be in close games like this one for the rest of the year.
Noyes went a perfect 5–5 on his kicks Saturday night; 3–3 on field goals including the career-long 55-yarder for the late lead, and 2–2 on extra points.
On the season, Noyes is 7–9 on field goals and a perfect 21–21 on extra points. He'll continue to have a key role in the Rams' outcomes going forward.
Vann Schield
Avery Morrow was able to suit up, but Schield still shined brightly.
The sophomore running back, who's filled in valiantly with both Johnson and Morrow injured, enjoyed a career night with 11 carries for 90 yards, and 1 reception for 2 more yards.
That's a fantastic 8.2 yards per carry average which was helped by his career-long 52-yard run. He now has 53 carries for 236 yards (4.5 YPC) and 3 touchdowns this season. And it's likely Schield will continue to be relied upon as the season moves forward.
There goes 𝙎𝙪𝙥𝙚𝙧𝙑𝙖𝙣𝙣❗

📺 MW Network pic.twitter.com/jG0g2gf8lI

— Colorado State Football (@CSUFootball) October 21, 2023
Mohamed Kamara
Kamara got back onto the sack train on Saturday night.
The sensational graduate student sacked Jordan Maiava and ran his nation-leading total to 10.5 on the year. That's third-best in a single-season for any Colorado State Rams player ever.
Kamara is also best in the country in sacks per game with 1.50 per, and he stays ahead of Jonah Elliss of Utah with 10.0 sacks.
Stock Down
Pass defense
The Rams pass defense was down and out on Saturday.
They gave up a career-high 353 passing yards to Maiava in the game. And that included the last-minute drive in which Maiava sliced and diced Colorado State to set up the relatively easy 28-yard field goal to win.
Ironically, the Rams needed to focus on UNLV's elite rushing attack before the game started, and they performed well against it. The Rebels ran for only 138 yards, which was 83 less than their season average to that point (221.5). 
But the pass defense has regularly let CSU down this year.
Tory Horton
OK, it's somewhat tough to pick on Horton, the superstar receiver here.
But, he did have a season-low 48 yards receiving. Coming into the game, he was 7th in receiving yards (690), but has fallen to 8th (738).
Horton also threw for an interception in the game. He was 1–1 with a touchdown this year, but is now 1–2 with 1 TD and 1 INT. Will Norvell use him in one of those trick plays again this year?
Jay Norvell
Again, this is a tough one for Norvell to fall into the Stock Down category.
But, the squib kick was somewhat weird. It gave UNLV 10-12 yards more than if they would have kicked it deep, in all likelihood.
Sure, a squib is a way to possibly have the opponents fumble the ball and allow your team to recover to win. But, not only did it not work, but it sent a message to his defense that he didn't think they could get the job done.
Ultimately, the pass defense needed to play better in that final drive. But besides the squib here, Norvell's coaching mistakes include not going for a 2-point conversion in the first overtime against CU.
Next up for Colorado State (4-3) is hosting No. 22 Air Force (7-0) on State Pride night.