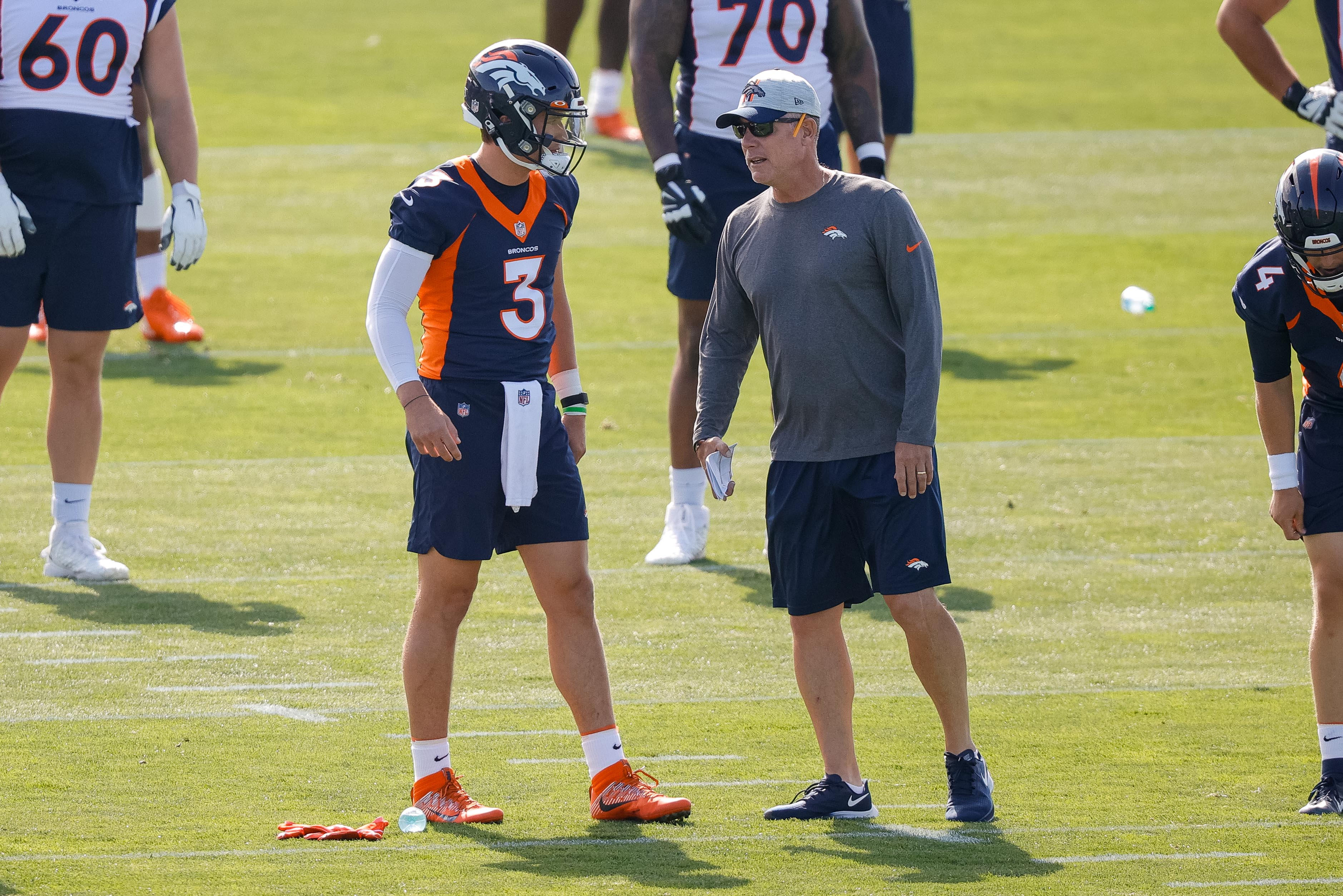 The first week of training camp is now in the books for the Denver Broncos, and now we have a much better idea of what the state of the team looks like.
Countless players helped or tarnished their stock this week, so it'd be impossible to touch on them all, but let's take a look at the players who won and lost the most.
Winners
Trinity Benson
This week was huge for Trinity Benson, and could have potentially won him a roster spot which would have seemed entirely out of reach as recently as minicamp.
Courtland Sutton, Jerry Jeudy, Tim Patrick, and K.J. Hamler will not be cut, which immediately removes four roster spots from competition. Meanwhile Tyrie Cleveland, Seth Williams, Kendall Hinton and Diontae Spencer all entered camp ahead of Benson on the depth chart, to compete for those final two-or-three roster spots.
With Cleveland struggling through a case of the dropsies, and Benson making big plays every single day of camp, the East Central University product has gone from afterthought to leader-in-the-clubhouse.
Patrick Surtain II
We've already taken a more in-depth look at how Patrick Surtain II has been impressing, but he still deserves to be labeled a winner from the first week of training camp.
So far, Surtain II has been on a different level physically from the rest of his peers in the secondary, and he's been on a different level mentally from your standard rookie.
In fact, he's been so impressive that the notions of him being one of Denver's three starting cornerbacks in Week 1 and being a serious candidate for Defensive Rookie of the Year, are becoming more and more realistic.
Justin Strnad
During last year's training camp, Justin Strnad was already beginning to carve out a role for himself, before he broke his wrist and prematurely ended his rookie season.
This year, he has jumped right back into the swing of things without missing a beat. He's already earned a role as a key special teams player, and situational linebacker on defense, but this is only the start.
Strnad is consistently making impressive plays in coverage that make him look like a seasoned veteran. He doesn't just sprint to the boundary to cover the running back swinging out to the flat, as he will also modulate his speed so that he can provide help in coverage along the way.
That led to him earning some run with the first team, alongside Alexander Johnson, on Saturday. He might be able to steal Josey Jewell's starting job by the start of the regular season.
Calvin Anderson
The Broncos have been strong believers in Calvin Anderson for a while now, and we're finally seeing the evidence of it.
Instead of the tackle competition being between Bobby Massie and Cameron Fleming, two well established veterans who were starting just last season, the competition has been between Massie and Anderson. They're the only two right tackles to have played with the ones, and so far Anderson seems to be winning.
This is great news for Broncos fans, as Anderson could potentially be a long-term answer at tackle. The same can't be said for both Massie and Fleming.
McTelvin Agim
In 2020, the Broncos' final third round pick, McTelvin Agim, was a bit of a non-factor. When injuries began to decimate the defensive line, the Broncos leaned more on little-known veteran signing DeShawn Williams instead.
That won't be the case this year if those injuries happen to return.
Agim has been a bonafide stud in camp, making plays left and right and even batting up a pass from Teddy Bridgewater, resulting in an interception. He's creating interior pressure at a consistent rate, which should make him a devastating rotational weapon for this defense behind Shelby Harris and Dre'Mont Jones — who has been a winner in his own right.
Drew Lock
Unlike Benson, Drew Lock didn't quite set the world on fire with his performance, but he made a massive improvement in the area that matters most to him; turnovers.
Just last year, Lock had the highest interception rate of anyone not named Nick Mullens. Yet so far, through one week of training camp, Lock has yet to turn the ball over, which is absolutely massive.
If Lock can limit his turnovers throughout training camp and into the preseason, he is almost guaranteed to win the quarterbacking battle. Teddy Bridgewater is the safe option, and there's no way he wins the competition for being less safe.
The added bonus of an improved downfield connection with K.J. Hamler also helps.
Losers
Teddy Bridgewater
Speaking of Bridgewater, it's hard to think of anyone on the Broncos that had a rougher week.
As much as Lock helped his case by cleaning up the turnovers, it seems like this week was more lost by Bridgewater than anything.
On the first and third days of camp, Lock scored narrow wins over him from a majority of the analysts in attendance, though Bridgewater decisive victory on the second day had things looking even heading into Saturday.
However, the former Carolina Panther broke down and had an awful practice which easily gave the first week to Lock. At times it even looked like Bridgewater was lost.
Tyrie Cleveland
As we already discussed, the Broncos are loaded at wide receiver, making it an especially competitive position to make the roster at.
That leaves little-to-no margin for error, even for a player who was as impressive in a small sample size as Cleveland was last year.
This week was brutal for Cleveland as he was plagued by drops throughout, which was quite the turn from before camp, when it seemed he had an opportunity to create a sizable role for himself on offense.
While the week on the whole was a big loss for Cleveland, there were nice moments. Namely, he made a play holding onto a pass on a comeback route through contact from Kyle Fuller, one of the most physical corners in the sport.