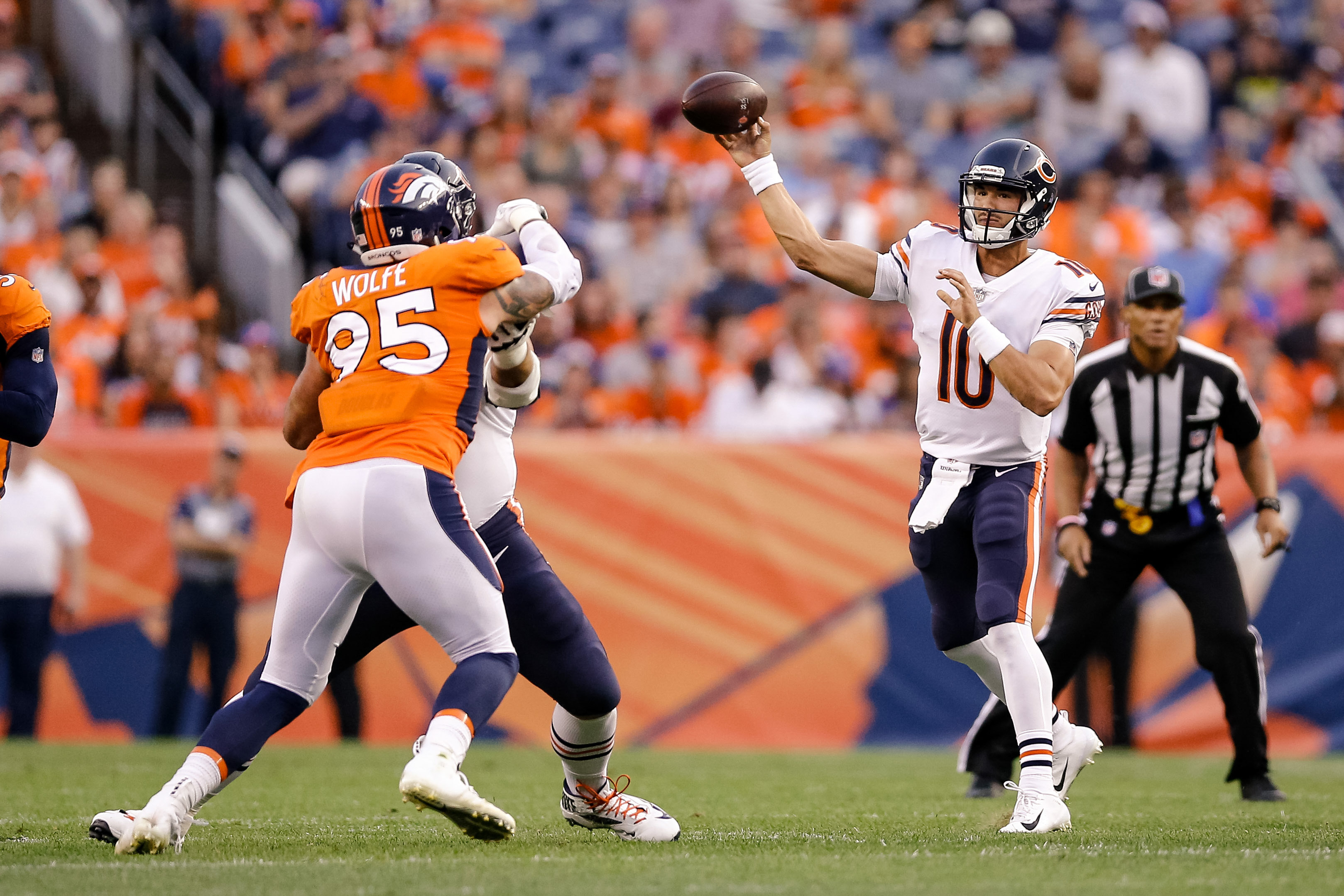 Both the Bears and Broncos enter Sunday's Week 2 bout with a must-win mindset.
The Bears kicked the season off by getting embarrassed at home under the watchful gaze of a primetime-nationally-televised audience, while the Broncos closed out Week 1 by doing the same thing on the road.
Now, the Bears must win to keep pace with a highly-contentious NFC North, while the Broncos need to prove that the operation isn't "man-over-board" for the third straight season. Here are the three factors that will determine which team reigns supreme:
For more keys to Sunday's game, check out my podcast with Ronnie Kohrt here.
Mitchell Trubisky vs. Vic Fangio
After extremely disappointing outings in Week 1, both Mitchell Trubisky and Vic Fangio will be looking to get their units back on track this week.
For Fangio, things should be getting easier. He now has a game as an NFL head coach under his belt and the Bears offense should pose less of a threat than the Raiders, though neither possess stellar attacks.
Such isn't the case for Trubisky, who had to face Mike Pettine and the much-improved Packers defense in Week 1 and now has to travel to the Mile High City to face a talented defense, led by a defensive mastermind that should know Trubisky's weaknesses better than any other coach in the league.
That has a counter to it though, as it means that the Bears quarterback is also more familiar with Fangio and the gaps in his defense than the average NFL quarterback.
However, it's safe to say betting on Fangio to scheme something up to disrupt the young, inconsistent quarterback is safer than betting on Trubisky to exploit the weaknesses of one of the NFL's best defensive minds.
Broncos' running backs vs. Bears' defense
We all saw what the Broncos' offense looks like when it can't run the ball against a bad defense on Monday night. How will they look if they can't run the ball against what's arguably the league's best defense?
This matchup against the two defensive-focused two teams will be a throwback to the ground-and-pound days of the 1970s. The team that establishes the ground game and defends the run the best will come out of Empower Field at Mile High victorious.
The Broncos should have the edge with Phillip Lindsay and Royce Freeman — especially after how improved Freeman looked against Oakland — but they'll be matched up against a tougher blockade, and the Bears' combo of David Montgomery and Tarik Cohen shouldn't be slept on.
Denver pass rush vs. Bears offensive line
While there were other units that performed worse on Monday night, no group was as disappointing as the Broncos' pass rush.
This offseason we were promised the next iteration in dominant Broncos defenses, spearheaded by Von Miller and Bradley Chubb combining for 40 sacks and several more hits and pressures.
Instead, we got a unit that couldn't even pressure, much less sack Derek Carr, against one of football's worst tackle groups.
Against the Bears, the Denver defense has to right the ship, and that begins with Chubb and Miller. On paper, the Chicago line should be a more difficult matchup but they struggled mightily against Green Bay, allowing five sacks, four hits, 16 hurries, and 25 total pressures on 57 dropbacks.
Watch for Denver's dynamic duo to burst onto the scene in this Fangio revenge game.
Denver versus Chicago kicks off at 2:25 p.m. MT on Sunday.