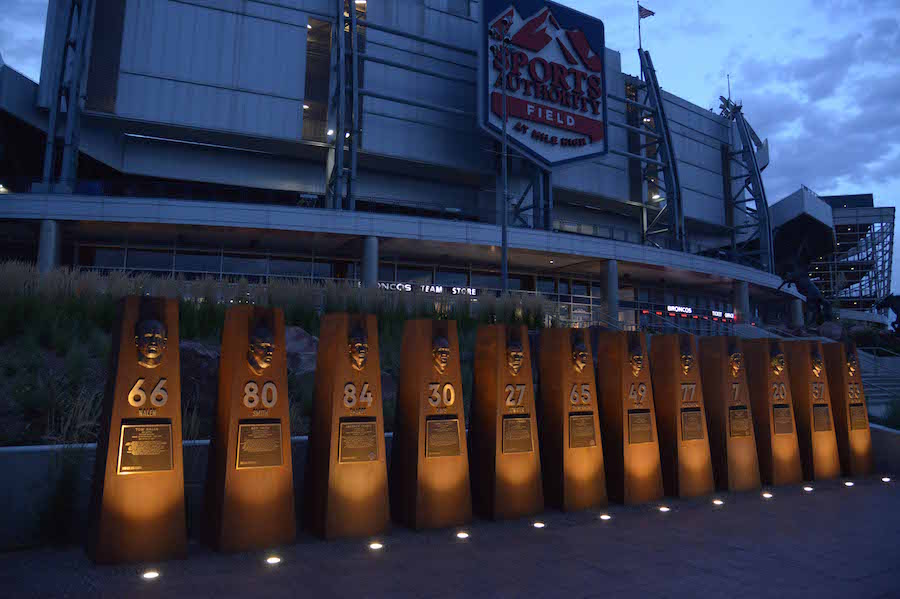 Just like you, we have been counting down the days to the start of training camp. And when there's no actual football to discuss, it is easy to get sidetracked into the "what if" game. So we decided to have some fun and asked the Mile High Sports crew the following question:
Excluding Peyton Manning and John Elway, if you could add a former Bronco in their prime to the 2019 roster who would you pick?
Here's what our staff said:
David Hurlbut, Host, Weekdays 6am-7am
How about the linebacker I was fortunate enough to have on my show the day after Pat Bowlen's passing…Karl Mecklenburg. The depth, or lack there of at linebacker, has me concerned for the Broncos 2019 season. I can't take another season watching tight end's roam free over the middle.  Give me that old school linebacker any day of the week and hopefully twice on Sunday.
Ronnie Kohrt, Host, Weekdays 7am-8am
I want Champ Bailey. He is, without a doubt, the best cornerback the Broncos have ever sent out on gameday and arguably one of the greatest cornerbacks in NFL history. While this theoretical scenario wouldn't technically 'help' the Broncos the most because they're already strong in the secondary, I'm not passing up the opportunity to bring back a first-ballot hall of fame talent. If you're saying I can't have the first or second best player to ever wear a Broncos jersey, I'll take the third in Champ Bailey.
Alex Ramirez, Host, Sundays 10am-Noon
Coming into this season with a first time head coach, new offensive coordinator and Mike Munchak taking over the offensive line. No question you would want to have Hall Of Famer Gary Zimmerman teaching these young pups what it takes to play in the NFL.
Kent Erickson, Host, Weekdays 2pm-3pm
Today's roster and today's NFL. Give me Al Wilson. Currently a gaping hole at inside linebacker and Wilson was a great three down guy. Track guy speed and fearless. I know there's Mecklenberg and Randy Gradishar, but in today's game… The correct answer is probably Jake Plummer as he's a quarterback, but no thank you. I'll take 56.
Doug Ottewill, Editor in Chief, Mile High Sports Magazine
Gary Zimmerman. If there has been a glaring weakness with the Broncos, even dating back to the year they actually WON the Super Bowl, it's been offensive line. And what position anchors the best offensive lines? It's always left tackle. There's a reason that John Elway drove to South Dakota in an attempt to recruit Gary Zimmerman–a Hall of Famer and the best left tackle in franchise history–to come and play; there's not currently a lineman on the roster that Joe Flacco would drive to Thornton to recruit.
Maximo Vela, Host, Mondays 6pm-7pm
Randy Gradishar! #53 – He's old school tough and a leader. He was someone you liked to have on your side. The Broncos need a good solid linebacker.
Gil Whiteley, Host, Weekdays 1pm-2pm
Terrell Davis, top five running back in NFL History. It's too bad his career was shortened.  No record was safe, if he stayed healthy, and he was injured on a fluke. getting rolled on by his own offensive tackle, making a tackle after an interception.
Will Petersen, Host, Weekdays 3pm-4pm
I'd bring back Shannon Sharpe because the Broncos haven't had toughness like that at tight end since he left. Sure, Julius Thomas put up gaudy numbers, but he was nowhere close to matching the complete package Sharpe brought to the table. Here's hoping Noah Fant can be the real life version of this.
Nate Lundy, President, Mile High Sports
Jake Plummer. I know there is help needed on the offensive line. I know a stud tight end would come in handy. But at the end of the day, give me a talented quarterback who can make plays and give the offense a spark. I believe there's talent on this roster. Now that talent needs someone to get them the damn ball.
Zach Segars, Broncos Writer, Mile High Sports
Ronnie's right. The answer has to be Champ Bailey. Not only was the Broncos' secondary among the worst in the league a season ago, but outside of Chris Harris Jr. and Bryce Callahan I still have serious reservations in regards to cornerback. Plus, some–like Bleacher Report's lead scout Matt Miller–even believe Bailey to be the best ever at his position.