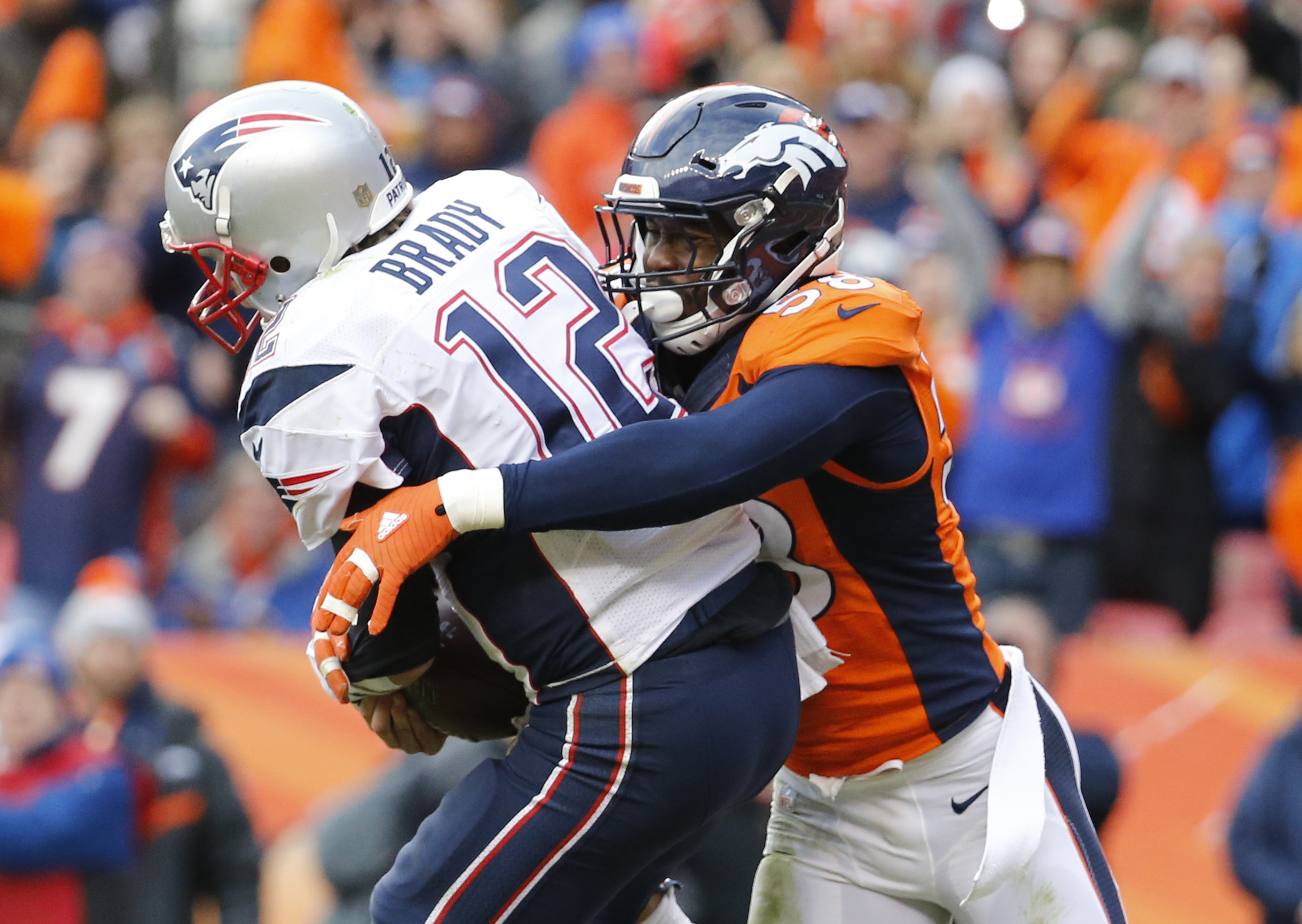 Von Miller is a once-in-a-generation talent and the recent murmerings about trading the 29-year old linebacker from various Denver shock jocks are not only ridiculous, they're unintelligent.
While the allure of stocking up draft picks may seem enticing, even the Denver Broncos would feel the heat from the fans if the team decided to ship off its most popular player. The Broncos faithful already showed exactly how frustrated everyone is when more than 10,000 people failed to show up for the season finale against the Chargers.
People are fed up, and understandably. So, what do you suppose the reaction to trading Miller would be in the current climate? My guess: something similar to the scene in Happy Gilmore, when an angry mob runs down Shooter McGavin for stealing Happy's golden jacket.
Don't believe me? Ask a Raiders fan how they felt watching Khalil Mack record 12.5 sacks and six forced fumbles for Chicago this year. Draft picks are great, but the odds of selecting players that can impact a game like Mack or Miller are slim to none.
In his eight-year career, Miller has easily been the most consistent pass rusher in the NFL. Only Julius Peppers (159.5) and Terrell Suggs (132.5) actively have more sacks than Miller, and both players have been in the league for eight or more years than Von.
If the Broncos moved on from Miller, chances are Denver would not find a player that comes even close to Miller's potential over the next decade. At Miller's current pace of 12.25 sacks per season, if he plays at least another five seasons, the outside linebacker is very likely going to finish in the top 5 for sacks all-time. If he plays longer, reaching Bruce Smith's career record of 200 sacks is not out of the question.
Miller recorded his second-highest sack total for a single season in 2018 with 14.5, and did so while only playing 78.37 percent of Denver's defensive snaps. In comparison, J.J. Watt played 90.08 percent of the Texans' defensive snaps and Aaron Donald played 90.41 percent of the Rams'.
If the future defensive coordinator can create more schemes that keep Miller on the field, it would not be surprising to see Miller record 15+ sacks like when Miller played 89.91 percent of Denver's snaps in 2012 and recorded a career-high 18.5 sacks.
Before the age of 30, Miller already has a Super Bowl MVP, multiple All-Pro honors and has become a staple of the local community. Not to mention he is undeniably the leader of the locker room, a terrific teammate, and the Denver's all-time leader in sacks.
It would be a shame if Broncos fans had to watch the second half of his career in a different uniform because Denver made some kind of desperation rebuild move. Stop talking about the move like it should even be on the table. The offseason is long enough without absurd takes like trading one of the NFL's most gifted sack artists ever.