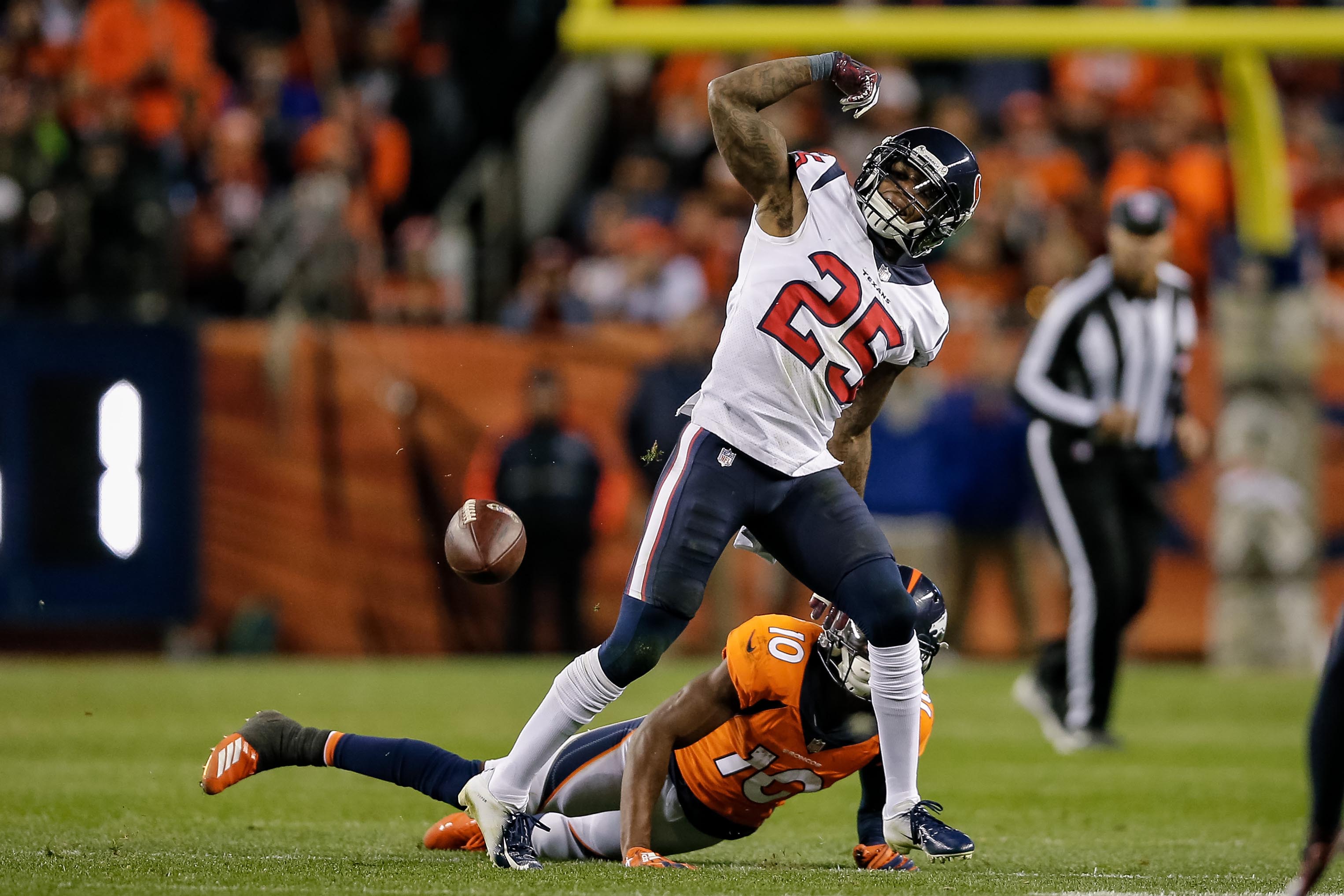 With Darian Stewart out the door, it was apparent that either Will Parks or Su'a Cravens would take over the starting safety job, but the signing of Kareem Jackson has complicated things.
Will the Broncos look to the less experienced Cravens or Parks in an effort to build towards the future, or will Vic Fangio favor more of a win-now approach and turn to the trusted veteran in Jackson?
The Broncos will rotate their safeties a lot this season based on situation, but Jackson will be the "starting" safety more or less.
Fangio is an incredibly smart football mind, like Bill Belichick isn't concerned with pigeon-holing players into a set position, and is more interested in using his 11 defenders in the roles that best suit each of them. This means that the Broncos will use Jackson at both safety and cornerback depending on the situation and what they need from him.
In their base 3-4 package, Broncos fans should expect to see Parks on the bench and Jackson at safety. It wouldn't make sense to play him in front of Bryce Callahan or Chris Harris Jr. at cornerback, so when only two corners are needed, Jackson will be found on the back end.
That's a spot where Jackson should thrive given his experience.
"Last year, I actually started out the beginning of the year playing safety," he explained on Saturday. "I played safety throughout camp. I played the first three games as safety, but because of injuries I was moved back to corner. In previous years before that, I would play safety in different packages that we had. I'm very familiar with the position, so it's all about getting acclimated to our new system here and this defense."
When the Broncos are in a nickel or dime package, though, Parks should be at safety as Jackson will move to cornerback and Callahan or Harris Jr. will shift to the slot.
This should be both the most lethal and most often used look for the Denver defense. Per Football Outsiders, defenses played out of Nickel or Dime looks on over 65 percent of snaps in 2017 and that number will only continue to rise.
How does Su'a Cravens fit into this?
He shouldn't be expected to play safety. The data as well as his performance a season ago showed that he doesn't have the coverage skills to be an NFL safety. That being said, he has great coverage ability and ranginess for a linebacker which would be a better fit.
However, the best spot for Su'a Cravens would be as a moneybacker, similar to what we've seen from Deone Bucannon. The Broncos should put him at inside linebacker in obvious passing downs and ask him to shut down the tight end or the running back; he should be able to do both.
He has the potential to be a talented role player, now it's just on Fangio and his staff to find out where the role is.
And don't forget about Justin Simmons in all this. Simmons is the assumed starter at safety alongside Jackson, but again, expect Jackson, Parks and Callahan to move around depending on the situation.