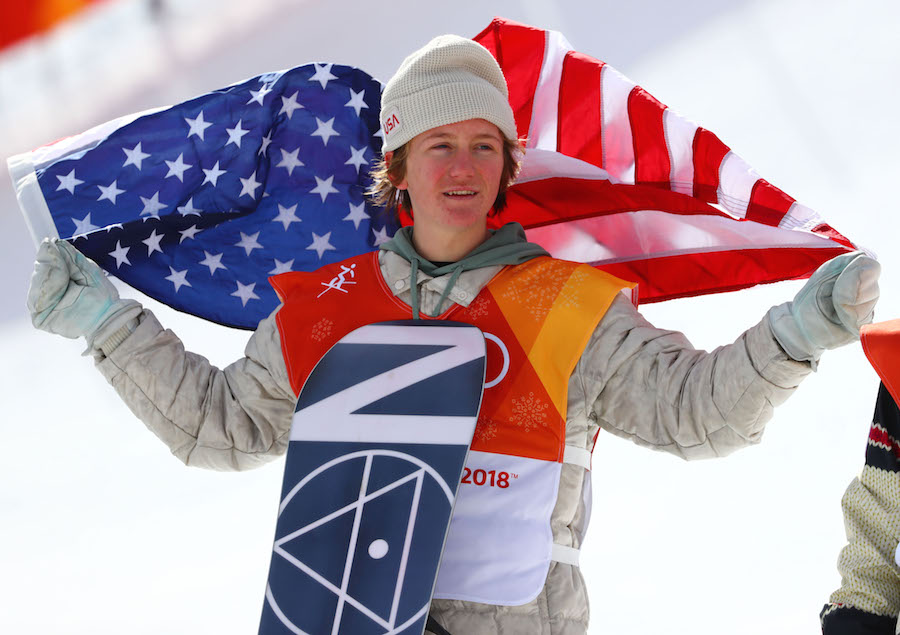 I'm going to let you in on a little secret. (Although it's one you probably already know).
Coloradans, myself included, are a proud and protective bunch when it comes to our state.
We turned down the 1976 Winter Olympics, for crying out loud (and continue to this day to shun the suggestion of hosting the games). We boast about our sunsets, our altitude, our weather and our fitness. We're particularly proud of our athletes.
So, you can understand our jubilation when the first U.S. gold medal of the 2018 Winter Olympic Games went to a Coloradan.
Or it went to an Ohioan.
Most importantly, it went to 17-year-old Red Gerard.
Most accurately, it probably went to all three. But the argument is on.
With a heroic effort in his third and final men's snowboard slopestyle run on Saturday, Gerard delivered a gold-medal-winning performance that wowed the judges in PyeongChang and started the meter running on the U.S. medal count.
Fans across United States were fired up to celebrate Olympic history. Gerard is now the youngest U.S. snowboarder to medal in the Olympic Games and the third-youngest man in history to win Olympic gold. He also became the first Winter Olympic medal winner born in the 2000s. The country as a whole was fired up that Gerard topped the heavily favored Canadian duo of Max Parrot and Mark McMorris. Colorado and Ohio lined up quickly to claim Gerard's accomplishment.
Colorado outlets — including this one — are labelling Gerard as their state's own. Ohio is doing the same. (Even Browns legend Bernie Kosar went out of his way to tweet about Gerard's Ohio connection.)
Gerard, who turns 18 on June 29, was born in Westlake, Ohio (near Cleveland). He spent the first seven years of his life in Red River, Ohio before splitting time between there and Silverthorne, Colo.
The Gerard family, which includes mom, dad, four brothers and two sisters, made the initial move to Colorado, Red told Transworld in November 2017, not (entirely) for snowboarding, but because his mom simply wanted to be in Colorado.
The full-time move happened a couple years ago and, after building a backyard terrain park, the now snowboarding-crazy family with the now gold-medal-winning son now claims Colorado as "home."
At least, that's what Red's official Team USA biography states.
The 17-year-old snowboard phenom isn't alone.
When the 2018 U.S. Winter Olympic Team was announced, 31 athletes listed a Colorado city as their "hometown" — the most among any state in the Union. Nineteen of those 31 athletes were born in the Centennial State, while Gerard is one of a dozen transplants on that list who now calls Colorado home base.
Well, actually, that number is slightly smaller now, as former CU All-American (cross-country) and U.S. biathlon competitor Joanne Reid decided after the official roster was announced, listing her hometown as Boulder, that she would change her Team USA hometown to Palo Alto, Calif. (She was born in Madison, Wisc.)
That's the funny thing about an athlete's "hometown" designation. It's up to the athlete and often involves some gray area.
Take freestyle skier Jaelin Kauf, who was born in Vail, skis for the Steamboat Springs Winter Sports Club and rooms with Telluride's Keaton McCargo. Steamboat is a huge part of her story, but by the black and white letter of the "hometown" designation, she hails from her current residence of Alta, Wyo.
The most decorated of the Colorado contingent in PyeongChang, Lindsey Vonn, was born in Minnesota and developed as a world-class alpine ski racer there until relocating to Vail in the 1990s. Colorado has claimed her ever since.
The most anticipated athlete from Colorado at this year's Games, alpine skier Mikaela Shiffrin, was born in Vail, spent several years of her childhood in rural New Hampshire honing her craft and eventually moved back to Colorado where she calls Eagle-Vail home.
Neither of Colorado's two bobsled racers, Lauren Gibbs and Nathan Weber, were born here. Meanwhile both Colorado-based hockey players in this year's Games, Nicole Hensley and Troy Terry, were.
Four of the five members of the U.S. Nordic combined team (ski jumping and cross-country skiing) grew up in Steamboat Springs and still consider it their hometown, even though they spend much of their time in Park City, Utah, home of the USA Nordic Sport offices.
Although she calls Arcadia, Calif. home, figure skater Mirai Nagasu, who on Monday became the first woman to land a triple axel in an Olympic games, helping seal a bronze medal for the U.S. in the team figure skating competition, is a student at the University of Colorado-Colorado Springs. Nagasu was an Avs ice girl for the 2015-16 season.
So, does the great State of Colorado also have a claim on Nagasu?
No one could really blame the Mountain Lions of UCCS if they wanted to hitch their wagon to their most famous international business major. The Colorado Avalanche certainly did. 
And that's part of the other thing that's true about Coloradans. Despite all the great things we have going for us sports-wise — an Olympic training center, five(-plus) major professional sports franchises, five Division I college athletics programs — we still have a bit of an inferiority complex.
We boast three Lombardi Trophies, two Stanley Cup titles and countless college national championships, but there's still a part of us that can't help but feel isolated as the only NFL, MLB and NHL city in the Mountain time zone (thanks Utah for not leaving us alone in the NBA and Arizona for refusing to pick a time zone). Being in "the forgotten time zone" — or viewed as flyover city between the coasts — is a big part of why we're so quick to take ownership of Gerard, Vonn and those other non-natives who now call Colorado home.
Back in Rocky River, Ohio on Saturday night, fans in a local bar went crazy after Gerard's win. A tweet of the reaction went viral. Given Cleveland's disappointing sports history (and Denver's own cruel role in it), I have no qualms with their championing Red Gerard as a "hometown" hero, just as we have. It's the least we can do after "The Drive" and "The Fumble."
I won't bat an eye if Lindsey Vonn goes on to win gold in the downhill and the fine folks of Minnesota want to brag a bit. Who could blame them, given their own recent athletic disappointments? (You were one win away from hosting a Super Bowl!)
Or if Bismarck, N.D. wants to wave the banner for Nathan Weber, now of Pueblo, if his bobsled team earns a medal. He was born there, after all, and it's not like Bismarck has much else going for it in February.
The Olympic Games are a time for celebrating common causes and finding reasons for unity. Heck, if North and South Korea can march as one and put together combined men's and women's hockey teams, Colorado and Cleveland ought to be able to share Red's glory.
And you can bet that if the unified Korean men's hockey team goes on to shock the world and medal, everyone in Colorado will be quick to celebrate Mike Testwuide. The Vail native and former Colorado College forward has been skating with the South Korean national team since 2015.
Because in the Olympic Games, it doesn't matter where you were born, where you currently reside, or even where you call "home" on the official register — all that matters is that folks from each of those places can celebrate you as one of their own. And here in Colorado, we'll gladly celebrate Gerard, Kauf, Vonn, Shiffrin, Testwuide and all the others as "ours."