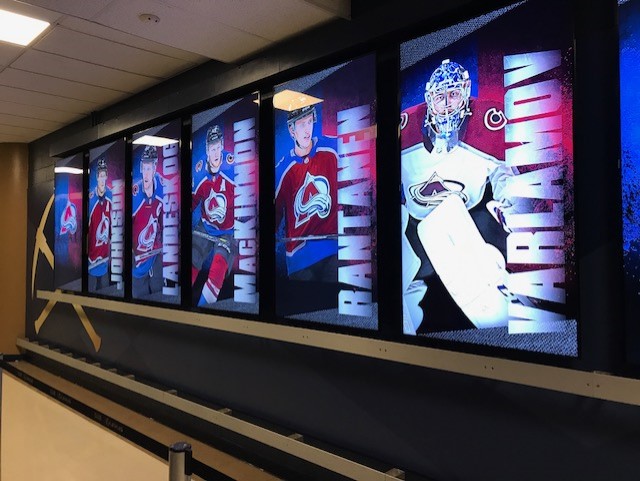 After the Avalanche acquired 19-year-old defenseman Samuel Girard on November 5, and immediately paired him with Erik Johnson and played him major minutes, the ripple effect seemed to include a downgrading of Tyson Barrie's role.
Both Girard and Barrie are undersized, fast puck-moving defensemen, and the issue was whether the Avalanche would be able to get away with deploying both on the blue line — and, yes, in front of the Colorado net — in the top four … or even the top six.
And there was another hint of a possible changing of the D-men prioritization in the Pepsi Center ice-level hallway, where the digital mural underwent a modification. Before the trade the digital mural was roll call of the Avs' six-man "core." The post-trade changes were: a) Naturally, Matt Duchene's image was gone, replaced by one of the up-and-coming Mikko Rantanen; and, b) Tyson Barrie, in the second season of his four-year, $22-million deal, disappeared.
In the last few weeks, though, as Girard has struggled, Barrie has come on, reasserting his importance as the major offensive generator on the blue line, and piling up the points. He had two goals Monday night in the 4-2 win over the Pittsburgh Penguins at the Pepsi Center, matching his total in his first 31 games. (Yes, he's in the middle above after one of his goals.)
"It's one of those things where you feel like you can't buy one, and you just get a couple of lucky ones," Barrie said.
Barrie has six points in the past three games and his 23 assists for the season are tied with Dallas' John Klingberg for the lead among NHL defensemen.
"If you look at it, his production is continuing," Avalanche coach Jared Bednar said of Barrie. "Like a lot of players, there are some inconsistencies there, but there are a lot of areas of his game that are improving and tonight was a really good example of that. . . I want to see him shoot more, both on the power play and five-on-five. He's doing that a lot lately, especially in the last couple of weeks. He's getting rewarded for it. Guys around the front of the net, like (Gabe) Landeskog last game, getting a couple of tips on (Barrie's) shots, they're getting rewarded for going to those areas. There's a lot to like about his game right now."
Uh, maybe it's time to get his picture back up there.
"I'm a defenseman and my job is to get these guys the puck," Barrie said. "That's what I'm trying to do. But obviously, I'd like to score some goals, too, and I hope I can get a few more."
Barrie's strong night against the Penguins helped get the Avalanche back above a point-per-game pace, at 16-15-2.
The Avs pulled it off with Johnson serving the first game in his two-game suspension for slashing and then boarding Tampa Bay's Vladislav Namestinov Saturday night. (The only surprising part of it was that Johnson wasn't suspended for longer.) With Johnson out, Barrie logged 24:31 of ice time against the Penguins, his third-highest total since the Duchene trade.
"You can't replace EJ," Barrie said. "It will be nice to get him back here after another game, but everyone's just got to step up and do the best they can and collectively we can pick up the slack."
With Alexander Kerfoot out in the previous three games, the Avalanche was suiting up seven D-men. The numbers were back to normal Monday night, with Kerfoot in the lineup and Johnson watching. But even then, Girard's minutes were limited, to 13:32, in the third pairing with Anton Lindholm.
"I mean, Sam's a great player," Barrie said. "He was a big part of that trade we got for Dutchy, so he's going to be a good player for a long time for this organization. For me, I've been around for a while, and I know what I have to do for this team. It's nice to have another guy who can move the puck and be offensive. That's great. If you look at the way the game's going, it's quick, it's got to be fast, and I think he brings that. I think we've got pretty good mobility back there now and that makes our team a little more dangerous."
*    *   *
Denver-based journalist Terry Frei writes two commentaries a week about the Avalanche for Mile High Sports. He has been named a state's sports writer of the year seven times, four times in Colorado (including for 2016) and three times in Oregon. He's the author of seven books, including the fact-based novel "Olympic Affair" about Colorado's Glenn Morris, the 1936 Olympic decathlon champion; and "Third Down and a War to Go," about the 1942 football national champion Wisconsin Badgers and the players' subsequent World War II heroism. His web site is terryfrei.com and his additional "On the Colorado Scene" commentaries are at terryfrei/oncolorado. 
E-mail: [email protected]
Twitter: @tfrei
MHS Commentary Archive:
On this (unnamed) line, Gabe Landeskog amps up the scoring
Avalanche rushing game involves Girard and Jost
And the Nathan MacKinnon answer is… 
Noted hockey pundit Yogi Berra would call this deja vu all over again
MacKinnon and O'Reilly meet again
Gabe Landeskog has to be smarter, and he's the first to say so
For Avalanche, winning back fans isn't easy, either
Horseman/defenseman Erik Johnson up to playing marathon minutes
Ring of Famer Red Miller, Part One: Coal Miner's son
Ring of Famer Red Miller, Part Two: About those %$#@ Raiders… 
This time a year ago, the wheels fell off 
Post-trade: On Girard and Kamenev
Stockholm is a Homecoming for Landeskog
Why Can't MacKinnon do that every night?
At the Pepsi Center, you'll think you're in Chicago
Is Zadorov ready to be – and stay – a top-pairing "D"?
For this is to work, Bernier has to be better
This isn't just Jared Bednar's second season. It's his second chance.
Sven (The Reindeer) Andrighetto speedily skating into Avalanche forefront
With Avalanche off to another 3-1 start, leadership is a "core" issue