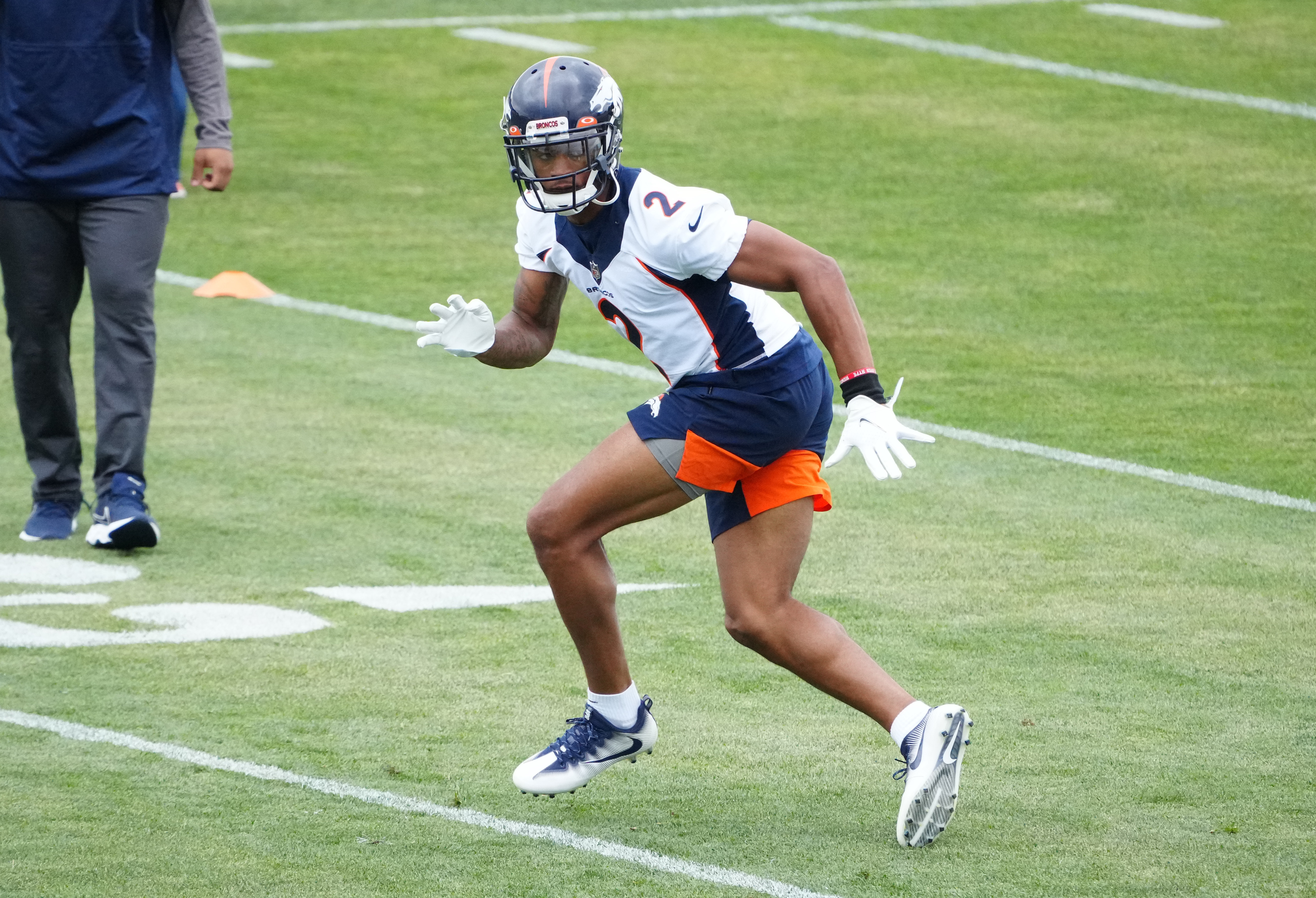 The Denver Broncos have wrapped up OTAs and mandatory mini-camp. Next stop, training camp.
There are jobs up for grabs and jostling over playing time ahead of players. However, we have learned plenty about the Broncos over the last several weeks.
As Vic Fangio and his coaching staff prepare for camp, it was time to dissect the summer offseason program to identify key themes for the Broncos.
Significant storylines are forming, for instance. Some of these stories are particularly for the course and several are exciting.
Here is what we know in June as we prepare for the return of the Broncos to July heat in Dove Valley.
Quarterback competition has a long way to go
We know Drew Lock and Teddy Bridgewater are battling for the starting quarterback position in Denver. Lock, the incumbent has shown the ability to make big plays. This type of play could lead the offense to score more than 21 points per game, something they have not done since the Super Bowl 2015 team.
He has also been slow to read the field at times, resulting in throwing a pick-6 to All-Pro Justin Simmons for example. This type of play could lead to holes too big for this team to climb out of.
Bridgewater is as advertised. Teddy "Two Gloves", shows a quick processer and gets the ball out on time. This type of play could lead to consistency the offense has not had in some time.
On the other hand, Bridgwater fails to push the ball with authority. This type of play could lead to familiar 3-and-outs or failures in the red zone.
Both quarterbacks provide something the other does not. To this point, the difference in style does not create enough separation between the two, leaving the competition is too close to call.
Broncos offseason QB scoreboard (from the practices open to the media):

OTA practice 1: Push
OTA practice 2: Bridgewater
OTA practice 3: Bridgewater
Minicamp practice 1: Lock
Minicamp practice 2: Bridgewater

Per Vic, we're only 2-3% through the evaluation now…

— Zac Stevens (@ZacStevensDNVR) June 17, 2021
Additionally, we know is the coaching staff is weighing training camp reps much heavier than anything done up to this point. OTAs and mini-camp are for installation and familiarization between the coaches and players. Training camp reps are to evaluate players based on what the team wants to do in-game and in-season.
There is a path for both players to take a hold of this job and this team. However, if neither separates themselves we also will see increased smoke surrounding Aaron Rodgers landing in Denver.
We surely know that both Bridgewater and Lock have some things to work on before training camp starts to be "the guy" when the regular season starts.
Broncos' top pick looks the part
We know the selection of Patrick Surtain II was questioned by many media members on draft night. It was assumed the rookie would struggle to crack the starting lineup.
The cornerback room appeared full to the brim with the additions of Kendall Fuller and Ronald Darby along with the return of a healthy Bryce Callahan. Yet, the uber University of Alabama alum has turned heads since he arrived at rookie mini-camp.
Doubts have slowly left Broncos Country as the rookie continues to impress teammates, coaches, and media.
Early #broncos mini camp observation. CB Patrick Surtain doesn't look like a rookie. Isn't being treated like a rookie either. He has walked in NFL ready and Denver seems to obviously see that.

— James Palmer (@JamesPalmerTV) June 15, 2021
The 6-foot-2 and 208-pound cornerback is exactly what George Paton hoped he would be when he wrote his name down on the draft night.
The rookie's ability to match up man-to-man with wide receivers and tight ends will come in handy as the team takes on Travis Kelse and Darren Waller.
We now know Patrick Sutrain II will be inserted early and often into the Broncos' defense and is expected to contribute. This says a lot, the secondary is being heralded as one of the NFL's best.
The rest of the Broncos' secondary is pretty good too
We know the offseason additions of Ronald Darby and Kendall Fuller have raised all boats because of their ability to make plays on the ball. Also, we know a healthy Bryce Callahan brings the group one of the league's top slot corners.
Surely we know Surtain II brings length man-to-man skills missing from last year's roster.
We know that bringing back Kareem Jackson and retaining Pro-Bowl safety Justin Simmons was key to solidifying the secondary room as each position now has some of the game's best players.
Additionally, Fangio has a group of players with a variety of skill sets allowing him to be multiply and dynamic in how he attacks defenses.
Media and the league have taken notice and see the depth and top-end talent of this unit, resulting in Pro Football Focus ranking them No. 1 in the NFL.
What does @PFF_George think it could mean if the #Broncos have the No. 1 secondary as @PFF ranked them? | Presented by @BetfredSports | Receive a 100% first wager match up to $500, win or lose.

More with @redwardsradio & @AllbrightNFL: https://t.co/GYM2netKao pic.twitter.com/fgfcKSlTDY

— KOA NewsRadio 850 AM & 94.1 FM (@KOAColorado) June 14, 2021
Lastly, we know opposing quarterbacks facing this group will have trouble all season long, which will bring back memories of the No-Fly Zone.
This team is full of young players ready to ascend
We know the Broncos' roster is full to the brim with players who are tabbed to break out. Potential storylines are range from rookies like Surtain II to bounceback candidates such as Courtland Sutton. As a result, there is no shortage of exciting players to watch as training camp rolls around.
The aforementioned Sutton, a 2019 Pro-Bowl player returns from an ACL injury. He has yet to participate in 11-on-11 activities but should be ready to go when training camp starts.
Rookie running back Javonte Williams appears to be turning heads. His style of play will be fun to watch as the pads come on. Williams has looked so good, there may be a competition brewing with the incumbent Melvin Gordon.
The offensive line is stacked with young talent. Lloyd Cushenberry III is expected to improve while Dalton Risner is ready to join the league's elite.
On defense, Surtain II looks to be the "real deal" and the rookie safeties Cayden Sterns and Jamar Johnson are picking up steam.
However, we know no single player has earned as much positive attention as Jerry Jeudy. Jeudy has continued to show his elite route-running skills with an increased professional presence.
There has been little to no talk about drops that plagued Jeudy throughout his rookie campaign.
In a wide receiver room filled with talent, Jeudy may just be the best of the bunch.
In the end, we know that there will be several stories coming out of training camp about how excited the team is about multiple young players.