If the Avalanche reboot continues its progress, we might look at back at this Colorado season and laugh at what a big deal it was just to make the playoffs.
The early seasons of this franchise's residency in Denver, with a sustained stay among the elite and two Stanley Cup celebrations, initially set both the bar and expectations much higher than that.
Making the postseason was a given.
The regular season was for biding time, for positioning, and in some cases even cranking up the emotions for the precedent-setting, often score-settling, rivalries — while conceding that nothing really mattered until the chase for Lord Stanley's lovely parting gift to the Dominion was in play as the motivation.
The Avalanche now has made the playoffs three times in the past 10 seasons.
This time, the Avs did it the hard way.
Though the one point they got for the overtime loss at Anaheim turned out to be important, they stumbled through the three-game California road trip before having it come down to Saturday's final regular season game against St. Louis at the Pepsi Center.
The 5-2 win nudged Colorado up to 95 points, past the Blues and into a 1 vs. 8 first-round playoff matchup against the Nashville Predators. This, a year after the historically awful 48-point 2016-17.
Throw the confetti.
Crank up "Celebration!"
Declare everything else from here to be nothing-to-lose territory.
Absolutely, this in many ways is a lot more fun than the glory-years seasons because it was so unexpected and the single-season maturation of Nathan MacKinnon from underachiever and disappointment to stardom was so startling.
"We're kind of playing with house money right now, to be honest, " MacKinnon said after the game. "We expect to beat Nashville, but I don't think we really have any pressure on us."
In pro sports' most grueling and testing postseason, that nothing-to-lose attitude can be either enabling or a detriment, depending on how it's channeled. It still has to come with a hunger, an edge, an attitude that the handshake line after losing in the first round is going to be huge downer of experience.
None of this, "Well, we got there…"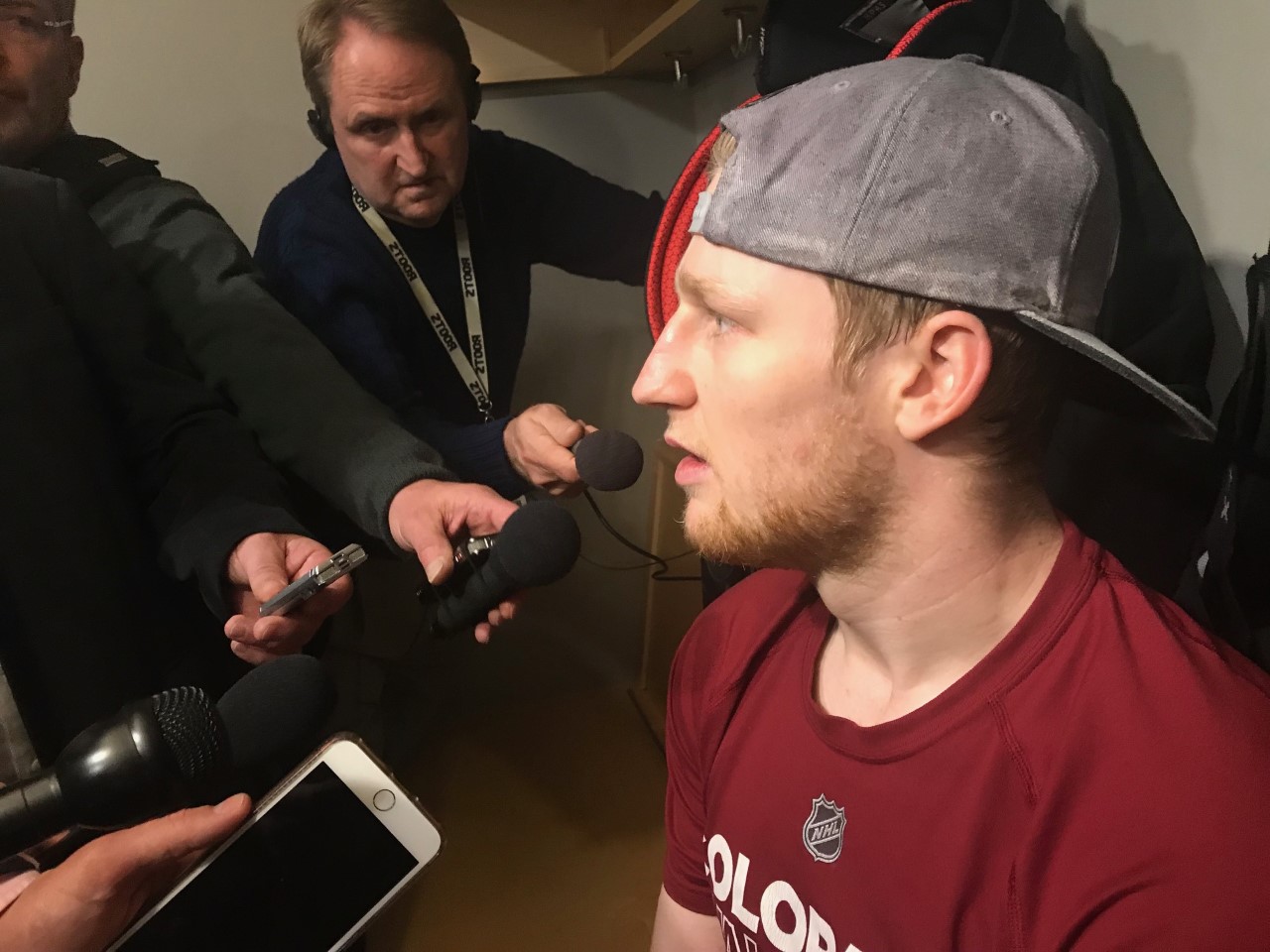 And, yes, although MacKinnon cooled off considerably down the stretch, leading this team to a near-doubling of its point total is a Hart Trophy-worthy performance. His 39th goal of the season gave the Avs a 3-1 lead late in the second and opened up breathing room.
"That was the funnest game in a while," MacKinnon said. "To make the playoffs hopefully becomes a routine thing for our team. But this year, I don't know if we even expected this until the last couple of months and really started to believe. It's an unbelievable accomplishment.
"It's got to be one of the best accomplishments in modern sports history . . . We were the worst team in 25 years. Atlanta (Thrashers, who had 39 points in their 1999-2000 expansion season) was worse, but they tried to be bad. We always joke about that. Atlanta tried to tank, we didn't, so that shows you how bad we were. Yeah, we have a lot of the same players, a lot of fresh faces and we did the unthinkable. We're really proud of each other."
I asked MacKinnon about whether this strengthened his Hart Trophy chances.
"I think it's obvious that it does," he said. "Making the playoffs is a big part of that. I really don't care at this point. To be in the conversation is flattering, to be up for an award with the best players in the world is flattering, pretty cool, but I'm just happy to make the playoffs. And the joy of making it isn't thinking about the personal stuff. I've had a lot of help."
I asked Avalanche coach Jared Bednar about the idea that this season will be pronounced a success regardless of what happens from here.
"I think our guys are hungry," he said. "I think they want to win. I think they believe that if we play like we did tonight, that we can win. And I believe that. So, to me, we're not done by any means. I think it's good to be labeled a success, for sure, especially after what you go through, a tough season, last year and there's doubters along the way. And at times, you even doubt yourself when you lose a couple of games and you have to bounce back and respond, and we've done that.
"So I think it might relieve a little but of the pressure on some of our guys. We can afford to still play the right way and still be loose and hopefully put Nashville under some pressure."
Four years ago, the incredibly consistent and similarly surprising 112-apoint turnaround season in Patrick Roy's first year behind the bench turned out to be a one-hit wonder and not a harbinger of getting back among the league's elite.
So what will this be?
I'll stand by my view of earlier in the week, that barely missing the playoffs wouldn't have been the worst thing in the world for this young, speedy, ascending team. It still would have been a stunningly successful season and it would have kept the carrot out there.
But I'll also concede the countering view has merit.
Only five members of that 2014 playoff team remain — MacKinnon, Gabe Landeskog, Erik Johnson, Tyson Barrie and Semyon Varlamov. Both Johnson and Varlamov are injured and won't play in the postseason. Other veterans on the roster have had playoff experience, of course, but all in all, getting the Avalanche exposure to the postseason — however long it lasts — could be a step forward, too.
"I'm really proud of this team," Bednar said. "I was really proud of this team before tonight and then to see them step up the way they did, they sort of finished the job of Phase One of our season. The leadership in our group, the dedication, the belief system I would say from our team …
"From Day One, they've been coachable. Our young guys are getting better, they're playing big games. Throughout our lineup is pretty impressive. The last week or so didn't go well for us and to be able to come home and respond the way we did is kind of what we've been doing all year. And we did it on a big stage here tonight."
A repeat of how the franchise reacted four years ago, when the circumstances in different ways were both different and strikingly similar, would be disillusioning for all involved — and following. The Avalanche embarrassingly lost its way after that recovery season. It required Joe Sakic's iconic status — and at least a coherently outlined plan for the rebuild — for the GM to be allowed to stay on the job rather than be given a ceremonial title and become more ambassador than architect.
This team didn't hit triple-figures in points. This team finished eighth in Western Conference. The major reason this was such a miracle season was because a middle-of-the-road season qualified as a quantum leap.
But still…
The buzz is back in the building. And the market.
*    *    *
Terry Frei of the Greeley Tribune writes two commentaries a week for Mile High Sports. He has been named a state's sports writer of the year seven times, four times in Colorado (including for 2016) and three times in Oregon. He's the author of seven books, in cluding "March 1939: Before the Madness," about the first NCAA basketball tournament and its champions; and "Horns, Hogs, and Nixon Coming," about the landmark 1969 Texas-Arkansas football game and the events swirling around it. His web site is terryfrei.com and his additional "On the Colorado Scene" commentaries are at terryfrei/oncolorado. 
E-mail: [email protected]
Twitter: @tfrei
Terry Frei's MHS Commentary/Story Archive:
The obligations of stardom for MacKinnon, line
An Avs' playoff berth can be flashback 
Here come the Knights … now and maybe in postseason
Nathan MacKinnon's MVP talk becoming more legit
Amid March Madness, how the NBA should emulate the NHL 
Nathan, good intentions, bad idea 
Fourteen years ago, Steve Moore played his final game for the Avalanche
Avalanche going into final month in control of own destiny
Is Duncan Siemens becoming more than an "organization" guy?
At least here, NHL trading deadline was much ado about very, very little
Avalanche standing pat wouldn't be irresponsible inertia
If the NHL stays away again, USA Hockey should be all-collegians
Just your average Harvard guy from West Vancouver
As MacKinnon skates closer to return, Avs have stayed in the playoff hunt
Bowman Brothers Reunion with the Colorado Eagles in final season as Avs' ECHL affiliate
The longer Bernier can hold the net, the better off the Avalanche will be
Magazine: Interview with DU local product — and Olympian — Troy Terry  
Magazine: Nordic Combined ace Bryan Fletcher beat childhood cancer 
Magazine: Arvada-raised Olympic snowboarder Chris Corning  
Magazine: Mikaela Shiffrin can add Olympic glory in amazing season
Magazine: Lindsey Vonn shooting to stay healthy, go for gold 
Magazine: Lakewood's Nicole Hensley is USA's backup goalie
Magazine: Gateway High Olympian Stephen Garbett
Don't let MacKinnon injury knock the Avalanche off course
NHL, Avs heading back to work, not Olympics
A Tale of Avalanche All-Stars, past and present
All Aboard! Avalanche bandwagon gains momentum
A kid in Long Beach and his first stick
Jonathan Bernier on taking over the Avalanche net
Nathan MacKinnon doesn't mind not being recognized … at the mall
Glory Days … Now get Springsteen out of your head
Sakic/Bednar and Elway/Joseph: Eerie parallels
Carl Soderberg goes from albatross to asset
Magazine: Jim Montgomery is Mile High Sports' college coach of the year
Magazine: Will Butcher is Mile High Sports' college athlete of the year 
Varlamov playing better than the numbers might indicate 
At the Christmas break, Avalanche is last — but still a turnaround story  
Tyson Barrie isn't pictured, but he's in the Avalanche picture 
On this (unnamed) line, Gabe Landeskog amps up the scoring
Avalanche rushing game involves Girard and Jost
And the Nathan MacKinnon answer is… 
Noted hockey pundit Yogi Berra would call this deja vu all over again
MacKinnon and O'Reilly meet again
Gabe Landeskog has to be smarter, and he's the first to say so
For Avalanche, winning back fans isn't easy, either
Horseman/defenseman Erik Johnson up to playing marathon minutes
Ring of Famer Red Miller, Part One: Coal Miner's son
Ring of Famer Red Miller, Part Two: About those %$#@ Raiders… 
This time a year ago, the wheels fell off 
Post-trade: On Girard and Kamenev
Stockholm is a Homecoming for Landeskog
Why Can't MacKinnon do that every night?
At the Pepsi Center, you'll think you're in Chicago
Is Zadorov ready to be – and stay – a top-pairing "D"?
For this is to work, Bernier has to be better
This isn't just Jared Bednar's second season. It's his second chance.
Sven (The Reindeer) Andrighetto speedily skating into Avalanche forefront
With Avalanche off to another 3-1 start, leadership is a "core" issue
Magazine: Colorado Eagles' class act in Northern Colorado