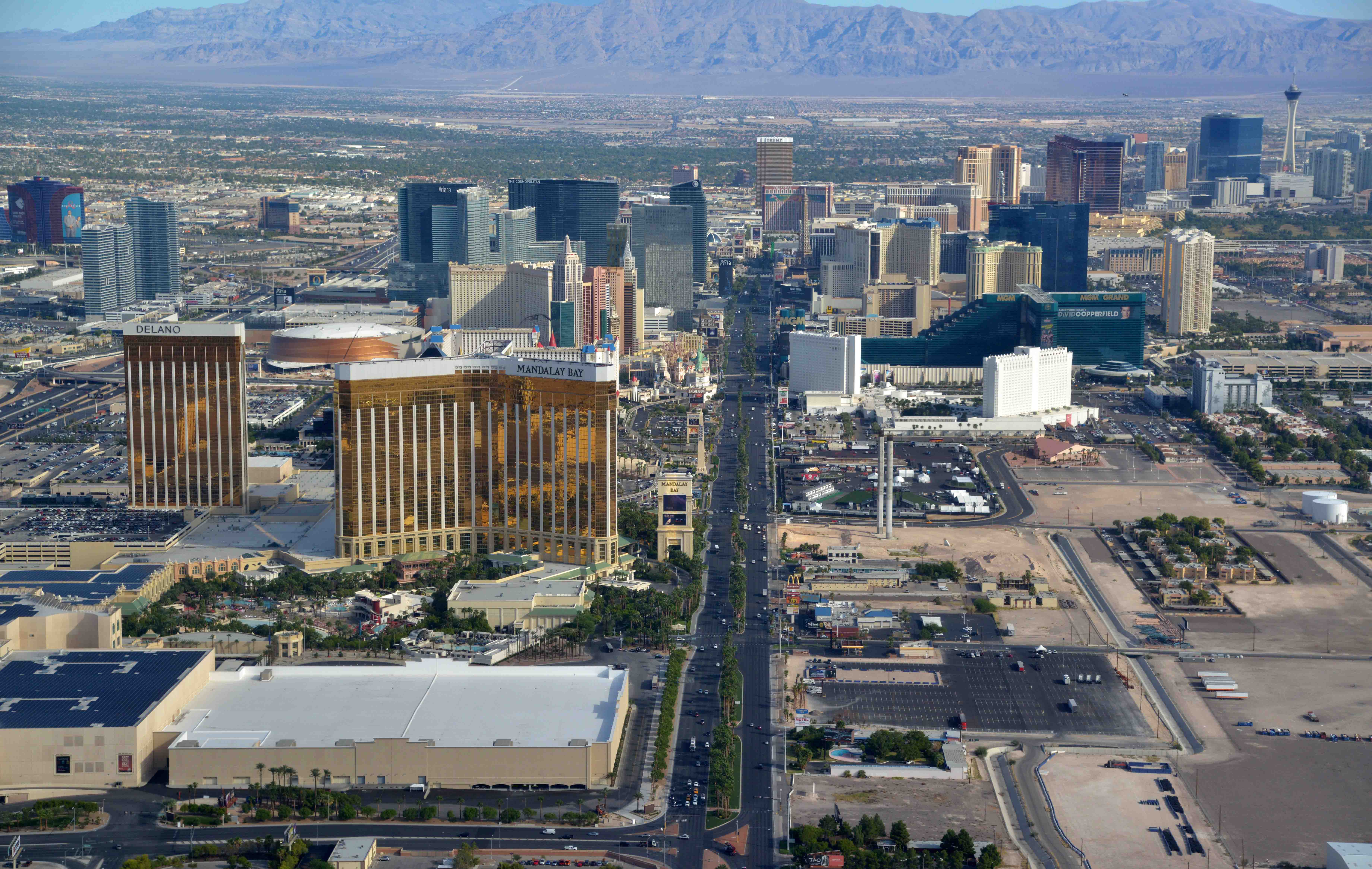 There was so much discussion Monday after the Supreme Court opened the way for states to legalize sports gambling, striking down the 1992 Professional and Amateur Sports Protection Act, it was difficult to keep up.
This is not going to be an attempt to take an omnibus look at the ramifications and the possibilities, but rather to toss out views and anecdotal experiences about the sports gambling issue that popped into my head Monday.
To start with, the leagues' hypocrisy on sports gambling — deep-rooted, cliched and usually ridiculous — remains galling.
They're already lining up for their cuts, couching it as an "integrity fee" to defray the cost of policing the games.
Why didn't they demand that fee, directly or indirectly, of the Nevada casinos, which have been taking legal — and often big-money — wagers for decades?
Nevada soon is going to have a lot of company in legally accepting sports wagers. Now all of a sudden individual NCAA athletes and pro athletes might be at least in theory be prone to bribery attempts? That couldn't have happened before?
In pro sports, the concept is mostly ridiculous, given the player salaries, but even if you play along for the sake of argument, the "temptations" have been there all along.
There wasn't any gambling — and isolated big-money gambling — before, whether in Nevada, at the offshore sports books or, especially in years past, in the barber shop or bar on the corner? Of course there was.
Plus, the leagues — and the NCAA — essentially did nothing except turn Las Vegas especially into a gathering-point city for everything from an NBA All-Star Game and summer league to NCAA basketball league tournaments, plus the NHL Golden Knights and, soon, the Raiders.
Hey, if a city has In-N-Out Burgers and Carrot Top, it can't be all bad.
There's nothing — nothing — wrong with all of that as long as we aren't subjected to the hypocritical hot air.
Here's why it's ridiculous for the leagues, and especially the NFL, to expect a cut from the overseeing federal government or the states as the wagering is taxed and regulated.
Gambling has been a major component of the leagues' success.
They've been getting their cut all along — indirectly, but unquestionably.
You're probably nodding and saying, yes, those fantasy leagues sure are popular. Well, they are. But the leagues abandoned any right to credible opposition to sports gambling when some of them signed partner agreements with daily fantasy league companies.
I've got nothing against fantasy league firms … but that's gambling, too.
This wasn't mentioned, and only was hinted at, in many of the stories about the Supreme Court decision and he Professional and Amateur Sports Protection Act. States that had legalized sports wagering at the time, or the recent past, were grandfathered in the law. In other words, states had sports wagering were allowed to keep it.
Those states were Nevada, Oregon and Delaware.
I was working in Oregon at the time and had written a forest's worth of stories about something University of Oregon athletic director Bill Byrne — later at Nebraska and Texas A&M — came up with. It was the Sports Action lottery game, designed to raise money for athletic scholarships in non-revenue sports.
They were parlay tickets, with a minimum of three games. After some experimentation,  the payoffs were locked in for perfect three and four-game tickets, and parlay tickets for five games and up paid of a pari-mutuel basis. In other words, if the statewide eight-game parlay pool was $5,000 and two gamblers won, each got $2,500.
The funny part of this was the NFL's indignant reaction. Oh, the horror! Gambling on sports. The league was shocked — shocked — to discover there was gambling in this establishment!
Sports Action was a small-change game. You'd check the lines in the newspaper — a newspaper that opposed legalized gambling but even before Sports Action ran the point spreads on the scoreboard page every day — and then head to 7-Eleven to make pencil marks between the lines on the entry list to signify your choices. For your $3, you enjoyed making the NFL, plus its pandering senators and congressmen, whine and complain as if you'd just plunked down $2.25 million on the Lions.
(Later, when covering the NHL again, I discovered similar games in Canadian provinces, but the difference was that the NHL embraced it. One level of the arena in Vancouver was named after its version of Sports Action.)
We were all adults and realized the NFL didn't really care about  Sports Action. The NFL's high-decibel opposition was simply staking out a position, avoiding the precedent and concession that might open the door to expanded sports wagering around the country.
Others also overreacted, including national sportscasters who objected to Sports Action because its payoffs under a pari-mutuel format were lower than in Nevada. NBC's Pete Axthelm, who had been known to place a sports wager, came to Portland and interviewed me for the Sunday NFL pre-game show.
There's no other way to put it. All this furor over a small-charge parlay game was pretty silly.
That was nearly 30 years ago. Most of the players in that subplot are out of the spotlight or gone. Oregon caved in, ending Sports Action wagering on the NFL and NBA. Oregon's  grandfather status under the 1992 law ended.
I salute the Supreme Court decision — mainly because it was a long overdue acknowledgement of reality. And, yes, it could make a lot of money for the states.
* * *
Terry Frei of the Greeley Tribune writes two commentaries a week for Mile High Sports. He has been named a state's sports writer of the year seven times, four times in Colorado (including for 2015 and 2016) and three times in Oregon. He's the author of seven books, including "Third Down and a War to Go," about the national champion 1942 Wisconsin Badgers and their wartime heroics, and "'77: Denver, the Broncos, and a Coming of Age." His web site is terryfrei.com. His additional "On the Colorado Scene" commentaries are here and his Greeley Tribune columns and major features can be accessed here.   
E-mail: [email protected]
Twitter: @tfrei
Terry Frei's MHS Commentary/Story Archive:
It wasn't a question of if Jim Montgomery was leaving …
Just don't drink the vile mint juleps
A Longhorn, a subpoena, a cassette, a CTE lawsuit against the NCAA
Don't let Nuggets off the hook of expectations
A great season? Sure, if it's a forecast of things to come
It ain't over 'til … it's over
Avs' best shot is Bernier stealing a game … or three
Nashville hitting all the right notes as NHL city
The man from Saskatchewan has paid his dues … a lot of dues 
Remember when making the playoffs wasn't so monumental?
The obligations of stardom for MacKinnon, line
An Avs' playoff berth can be flashback 
Here come the Knights … now and maybe in postseason
Nathan MacKinnon's MVP talk becoming more legit
Amid March Madness, how the NBA should emulate the NHL 
Nathan, good intentions, bad idea 
Fourteen years ago, Steve Moore played his final game for the Avalanche
Avalanche going into final month in control of own destiny
Is Duncan Siemens becoming more than an "organization" guy?
At least here, NHL trading deadline was much ado about very, very little
Avalanche standing pat wouldn't be irresponsible inertia
If the NHL stays away again, USA Hockey should be all-collegians
Just your average Harvard guy from West Vancouver
As MacKinnon skates closer to return, Avs have stayed in the playoff hunt
Bowman Brothers Reunion with the Colorado Eagles in final season as Avs' ECHL affiliate
The longer Bernier can hold the net, the better off the Avalanche will be
Magazine: Interview with DU local product — and Olympian — Troy Terry  
Magazine: Nordic Combined ace Bryan Fletcher beat childhood cancer 
Magazine: Arvada-raised Olympic snowboarder Chris Corning  
Magazine: Mikaela Shiffrin can add Olympic glory in amazing season
Magazine: Lindsey Vonn shooting to stay healthy, go for gold 
Magazine: Lakewood's Nicole Hensley is USA's backup goalie
Magazine: Gateway High Olympian Stephen Garbett
Don't let MacKinnon injury knock the Avalanche off course
NHL, Avs heading back to work, not Olympics
A Tale of Avalanche All-Stars, past and present
All Aboard! Avalanche bandwagon gains momentum
A kid in Long Beach and his first stick
Jonathan Bernier on taking over the Avalanche net
Nathan MacKinnon doesn't mind not being recognized … at the mall
Glory Days … Now get Springsteen out of your head
Sakic/Bednar and Elway/Joseph: Eerie parallels
Carl Soderberg goes from albatross to asset
Magazine: Jim Montgomery is Mile High Sports' college coach of the year
Magazine: Will Butcher is Mile High Sports' college athlete of the year 
Varlamov playing better than the numbers might indicate 
At the Christmas break, Avalanche is last — but still a turnaround story  
Tyson Barrie isn't pictured, but he's in the Avalanche picture 
On this (unnamed) line, Gabe Landeskog amps up the scoring
Avalanche rushing game involves Girard and Jost
And the Nathan MacKinnon answer is… 
Noted hockey pundit Yogi Berra would call this deja vu all over again
MacKinnon and O'Reilly meet again
Gabe Landeskog has to be smarter, and he's the first to say so
For Avalanche, winning back fans isn't easy, either
Horseman/defenseman Erik Johnson up to playing marathon minutes
Ring of Famer Red Miller, Part One: Coal Miner's son
Ring of Famer Red Miller, Part Two: About those %$#@ Raiders… 
This time a year ago, the wheels fell off 
Post-trade: On Girard and Kamenev
Stockholm is a Homecoming for Landeskog
Why Can't MacKinnon do that every night?
At the Pepsi Center, you'll think you're in Chicago
Is Zadorov ready to be – and stay – a top-pairing "D"?
For this is to work, Bernier has to be better
This isn't just Jared Bednar's second season. It's his second chance.
Sven (The Reindeer) Andrighetto speedily skating into Avalanche forefront
With Avalanche off to another 3-1 start, leadership is a "core" issue
Magazine: Colorado Eagles' class act in Northern Colorado
Magazine: Avalanche convinced a turnaround is possible