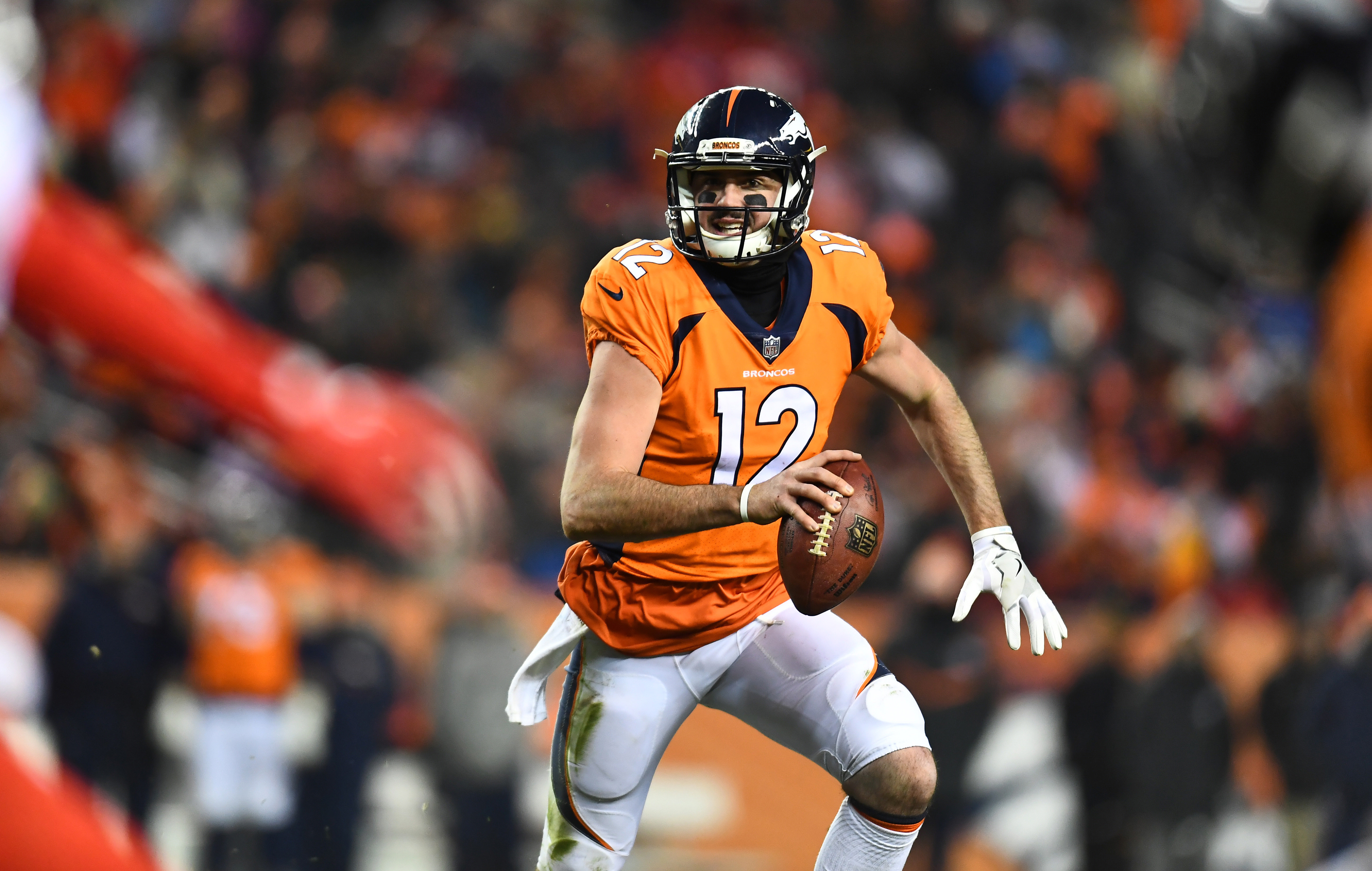 A sage football man once told me that one of the most important attributes in his business was having the ability to acknowledge that player evaluation was an inexact science — and to admit it and move on when your projections turn out to be wrong. It was about a body of work and savvy intuitive football knowledge, not single judgments.
Don't make it worse trying to dig out of the hole.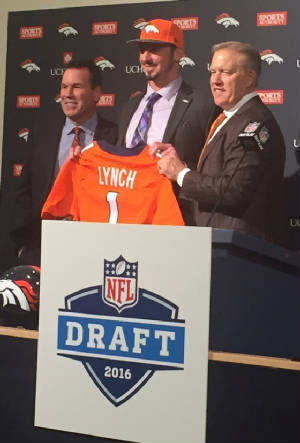 A sage editor once told me to never defend the indefensible. Don't even try. Not for the sake of argument, not for the sake of clicks, not for the sake of contrived controversy.
I am about to go against all of that.
Sorry, gentlemen.
Here's my rationalization: I believe there's still hope for the Broncos' Paxton Lynch as a bona fide NFL quarterback.
That includes if he has to step in for Case Keenum because of injury, or even somehow beats out Keenum.
Lynch still has a shot at being a long-term No. 1 in this league.
I now pause while the derision and scorning laughter dies down.
Why do I feel as if I'm about to defend a velvet portrait of dogs playing pool as a work of art worthy of the Louvre?
A specific sound bite from Broncos coach Vance Joseph has been replayed about a kazillion times in Denver this week.
He was addressing Lynch's role in the wake of the free-agent signing of Keenum when he said:
"I think for Paxton and our football team it's been a weight off all of our backs to have a starting quarterback and have everyone's role defined from Day 1. So for Paxton, he can relax and get better each day and not worry about a competition. I think for Paxton being around Case also — I mean, Case has been through some ups and downs in his career, so he can learn from Case on how to handle those things. It takes time to be an NFL quarterback. You would hope with Case being here, he can sit back and relax and get better as a quarterback and not worry about being the guy right now and just compete to be our backup."
That set the bar disgustingly low for a 2016 first-round draft choice. One who has failed to snatch the starting job from the silver platter placed in front of him. It was condescending and insulting. I fully realize some who actually know what they're talking about consider that a sign that the Broncos completely — as in 100 percent — have given up on Lynch. If he is facing a quarterback battle, the thinking goes, it only is with Chad Kelly for the backup role, not with Keenum for the starting job.
I don't consider it that.
It's desperation.
It's a final challenge.
But it's also an acknowledgement that a one-size-fits-all model of development, whether at quarterback or anywhere else, is folly.
As an NFL writer, I wrote many stories about elite quarterback prospects. Many washed out. There also are guys who muddled along for a few years before they got a chance, or the light went on, or both. Joseph hinted at that. Guys like, I don't know … Case Keenum.
At the 2016 draft, as tended to be the case annually, I was assigned to do the quick-hit, yet extensively reported, profile of the Broncos' first-round draft choice. The reporting wheels started roughly eight-tenths of a second after the choice was announced. I quickly tracked down coaches and others in Paxton Lynch's past. It  turned into this.
What struck me was his genuineness (if that's a word) and goofiness, in equal doses.
He played high school football for a small-classification private school, Trinity Christian Academy in Deltona, Florida, that ran the wing-T offense because of its available personnel.
And then it was on to Memphis.
Look, John Elway hoped that Lynch would be a relative immediate hit at quarterback. He staked his reputation, at least to a point, on it, moving up to claim Lynch. But this is arguably the greatest quarterback in the history of the game recognizing that early in his career, he once lined up to take the snap … behind guard.
When the Broncos drafted Lynch, they should have known that he didn't yet have that star quarterback's "it" or maturity. Or work ethic. And despite his critics' attempts at rewriting history, he was obviously talented. His college teammates loved him. But he was goofy and immature, and that's not a criticism. It is what he was. It was even endearing in a sense.
My point?
This is the final challenge. Lynch might fail and be gone — whenever that is. In fact, that's the most likely outcome here. I get that at this point, his Broncos teammates generally are more prone to laugh at him — at him, not with him — than embrace him as leader.
The Broncos might as well play this out. At least within the current dynamic that includes Keenum, Lynch and Kelly — and not Colin Kaepernick — in the quarterback room.
Don't write off Lynch.
Not yet.
* * *
Terry Frei of the Greeley Tribune writes two commentaries a week for Mile High Sports. He has been named a state's sports writer of the year seven times, four times in Colorado (including for 2015 and 2016) and three times in Oregon. He's the author of seven books, including "Third Down and a War to Go," about the national champion 1942 Wisconsin Badgers and their wartime heroics, and "'77: Denver, the Broncos, and a Coming of Age." His web site is terryfrei.com. His additional "On the Colorado Scene" commentaries are here and his Greeley Tribune columns and major features can be accessed here.   
E-mail: [email protected]
Twitter: @tfrei
Terry Frei's MHS Commentary/Story Archive:
It wasn't a question of if Jim Montgomery was leaving …
Just don't drink the vile mint juleps
A Longhorn, a subpoena, a cassette, a CTE lawsuit against the NCAA
Don't let Nuggets off the hook of expectations
A great season? Sure, if it's a forecast of things to come
It ain't over 'til … it's over
Avs' best shot is Bernier stealing a game … or three
Nashville hitting all the right notes as NHL city
The man from Saskatchewan has paid his dues … a lot of dues 
Remember when making the playoffs wasn't so monumental?
The obligations of stardom for MacKinnon, line
An Avs' playoff berth can be flashback 
Here come the Knights … now and maybe in postseason
Nathan MacKinnon's MVP talk becoming more legit
Amid March Madness, how the NBA should emulate the NHL 
Nathan, good intentions, bad idea 
Fourteen years ago, Steve Moore played his final game for the Avalanche
Avalanche going into final month in control of own destiny
Is Duncan Siemens becoming more than an "organization" guy?
At least here, NHL trading deadline was much ado about very, very little
Avalanche standing pat wouldn't be irresponsible inertia
If the NHL stays away again, USA Hockey should be all-collegians
Just your average Harvard guy from West Vancouver
As MacKinnon skates closer to return, Avs have stayed in the playoff hunt
Bowman Brothers Reunion with the Colorado Eagles in final season as Avs' ECHL affiliate
The longer Bernier can hold the net, the better off the Avalanche will be
Magazine: Interview with DU local product — and Olympian — Troy Terry  
Magazine: Nordic Combined ace Bryan Fletcher beat childhood cancer 
Magazine: Arvada-raised Olympic snowboarder Chris Corning  
Magazine: Mikaela Shiffrin can add Olympic glory in amazing season
Magazine: Lindsey Vonn shooting to stay healthy, go for gold 
Magazine: Lakewood's Nicole Hensley is USA's backup goalie
Magazine: Gateway High Olympian Stephen Garbett
Don't let MacKinnon injury knock the Avalanche off course
NHL, Avs heading back to work, not Olympics
A Tale of Avalanche All-Stars, past and present
All Aboard! Avalanche bandwagon gains momentum
A kid in Long Beach and his first stick
Jonathan Bernier on taking over the Avalanche net
Nathan MacKinnon doesn't mind not being recognized … at the mall
Glory Days … Now get Springsteen out of your head
Sakic/Bednar and Elway/Joseph: Eerie parallels
Carl Soderberg goes from albatross to asset
Magazine: Jim Montgomery is Mile High Sports' college coach of the year
Magazine: Will Butcher is Mile High Sports' college athlete of the year 
Varlamov playing better than the numbers might indicate 
At the Christmas break, Avalanche is last — but still a turnaround story  
Tyson Barrie isn't pictured, but he's in the Avalanche picture 
On this (unnamed) line, Gabe Landeskog amps up the scoring
Avalanche rushing game involves Girard and Jost
And the Nathan MacKinnon answer is… 
Noted hockey pundit Yogi Berra would call this deja vu all over again
MacKinnon and O'Reilly meet again
Gabe Landeskog has to be smarter, and he's the first to say so
For Avalanche, winning back fans isn't easy, either
Horseman/defenseman Erik Johnson up to playing marathon minutes
Ring of Famer Red Miller, Part One: Coal Miner's son
Ring of Famer Red Miller, Part Two: About those %$#@ Raiders… 
This time a year ago, the wheels fell off 
Post-trade: On Girard and Kamenev
Stockholm is a Homecoming for Landeskog
Why Can't MacKinnon do that every night?
At the Pepsi Center, you'll think you're in Chicago
Is Zadorov ready to be – and stay – a top-pairing "D"?
For this is to work, Bernier has to be better
This isn't just Jared Bednar's second season. It's his second chance.
Sven (The Reindeer) Andrighetto speedily skating into Avalanche forefront
With Avalanche off to another 3-1 start, leadership is a "core" issue
Magazine: Colorado Eagles' class act in Northern Colorado
Magazine: Avalanche convinced a turnaround is possible